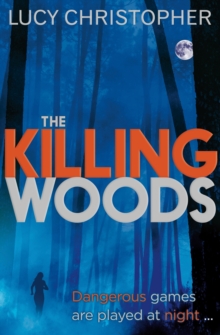 The Killing Woods
Paperback
Description
Emily's dad is accused of murdering a teenage girl in the woods behind her house, the place she played in as a child.
She's sure he's innocent, but what did happen? Determined to find out - and afraid of what she might discover - Emily seeks out the boyfriend of the murdered girl.
He also knows these woods. Maybe they could help each other. But Damon Hillary has his own secrets about the dangerous games that are being played in the dark .
Information
Format: Paperback
Pages: 384 pages
Publisher: Chicken House Ltd
Publication Date: 01/03/2013
Category: General
ISBN: 9781906427726
Other Formats
eAudiobook MP3 from £19.28
Free Home Delivery
on all orders
Pick up orders
from local bookshops
Reviews
Showing 1 - 5 of 5 reviews.
Review by Goldengrove
27/08/2015
The Killing Woods is a really good suspense novel for Young Adults. The reader is drawn in right from the first sentence: "Something was draped across Dad's outstretched arms.", and as the narrator moves towards the answer to that unasked question more, and frightening, questions are quietly appearing in the background. The novel is told in the first person (popular with young readers, unpopular with English teachers), and the POV moves between Emily and Damon. As these two people are approaching the book's central questions from very different angles this technique gives plenty of opportunity for information and misinformation to be shared with the reader. The plot is good and surprising, and the exploration of feelings, confusion and pain is very well handled. It is not a book for younger teenagers, and the story focuses on some difficult themes - it is important that young adults (or anyone) are given the opportunity to read and think about dangerous and dark actions and ideas, they are 'out there' after all, and books have always played their part in helping people to form their ideas about adult life. I enjoyed it a lot, and am looking forward to hearing what my students think of it.
Review by katie1802
16/06/2015
Okay, just to get this out there. <br/>I am borderline in love with Lucy Christopher and everything she writes. This woman knows how to write about scenery like nobodies damn business. <br/><br/>The depiction of the woods throughout the novel may seem a little heavy handed to some, but I definitely appreciated the importance she placed on the setting. Gripping me throughout, I managed to stop myself from flipping to the last pages (yeah, I'm one of those), to figure it out. Truthfully, I caught on about fifty pages before the big reveal, but hey, she did well to make it realistic, and consistent with the rest of the story. <br/><br/>Most importantly, I love how the book didn't rely on some rushed romance to carry it along. Emily and Damon may have had sparks flying and promises of more to come, but this book isn't about their feelings, it's about a very real and difficult experience they're sharing. <br/><br/>Christopher explores two very emotionally charged aspects of grief, both the physical loss of someone and that of realising that you never really knew a person, what they were capable of and the secrets they kept.<br/><br/>As the novel comes to an honest and genuine finish, you're not left with a totally resolved and happy situation, but are shown the characters as they attempt to pick up the pieces and carry on. <br/><br/>
Review by MABoone
16/06/2015
Lucy Christopher is a master at subtly shifting perspectives until the reader doesn't know what's real and what isn't. I was astonished by STOLEN and I am equally astonished by THE KILLING WOODS. It's not just that she delivers a novel that kept me turning pages to find out the answers to the mystery of what happened in the woods, she simultaneously delivered a surprisingly deep and unique view of PTSD and the effects on the victim's family. The book's themes are deftly drawn and gorgeously delivered. A stunning read.
Review by beckdg
27/08/2015
I won a copy of The Killing Woods from Goodreads First Reads. <br/><br/>I have not read any of Lucy Christopher's other books, but I plan to add them to my future reading. This book bordered on the emotional side (for me)from a family struggling with a P.T.S.D. father and the aftermath of a tragedy they are involved with to a teenage boy struggling with his emotions after losing his girlfriend in a horrible way. <br/>The story centers around Emily, who's father is accused of killing a local teenage girl after he brings he body from the woods and isn't able to tell anyone what happened, and Damon, who has lost his girlfriend Ashley to murder but is unable to remember anything about the night she was killed other than playing "the game" in the woods. <br/>This book will possibly not be appealing to someone who doesn't like the point of view switched back and forth every other chapter, but I didn't find it distracting from the story at all. More the opposite as it was easier, in my opinion, to see the struggles that Emily and Damon both go through in dealing with the same tragedy, on different sides. While Emily is convinced her father did not commit the crime he is accused of, she is alone in her belief, with even her mother seeming resigned to the idea he is guilty. At the same time Damon struggles to remember what exactly happened the night of the murder. Circumstances through Emily and Damon together, and an unusual friendship and attraction begins to emerge, even while they are on opposite sides of the belief in Emily's fathers guilt. <br/>When the story takes us to who the actual guilty person is, it was not what I was expecting, and a twist from where I thought it may have been heading. <br/>I loved the story, and the characters. I will say that the last paragraph of the whole book I loved. The reason is because of the symbolism I saw in that paragraph; simple and beautiful and what it meant (as I saw it at least). <br/><br/>
Review by beckdg
27/08/2015
I won a copy of The Killing Woods from Goodreads First Reads. <br/><br/>I have not read any of Lucy Christopher's other books, but I plan to add them to my future reading. This book bordered on the emotional side (for me)from a family struggling with a P.T.S.D. father and the aftermath of a tragedy they are involved with to a teenage boy struggling with his emotions after losing his girlfriend in a horrible way. <br/>The story centers around Emily, who's father is accused of killing a local teenage girl after he brings he body from the woods and isn't able to tell anyone what happened, and Damon, who has lost his girlfriend Ashley to murder but is unable to remember anything about the night she was killed other than playing "the game" in the woods. <br/>This book will possibly not be appealing to someone who doesn't like the point of view switched back and forth every other chapter, but I didn't find it distracting from the story at all. More the opposite as it was easier, in my opinion, to see the struggles that Emily and Damon both go through in dealing with the same tragedy, on different sides. While Emily is convinced her father did not commit the crime he is accused of, she is alone in her belief, with even her mother seeming resigned to the idea he is guilty. At the same time Damon struggles to remember what exactly happened the night of the murder. Circumstances through Emily and Damon together, and an unusual friendship and attraction begins to emerge, even while they are on opposite sides of the belief in Emily's fathers guilt. <br/>When the story takes us to who the actual guilty person is, it was not what I was expecting, and a twist from where I thought it may have been heading. <br/>I loved the story, and the characters. I will say that the last paragraph of the whole book I loved. The reason is because of the symbolism I saw in that paragraph; simple and beautiful and what it meant (as I saw it at least). <br/><br/>