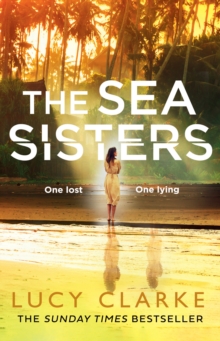 The Sea Sisters : Gripping - A Twist Filled Thriller
Paperback
Description
"A terrific summer read" Richard & Judy Two sisters, one life-changing journey... There are some currents in the relationship between sisters that run so dark and so deep, it's better for the people swimming on the surface never to know what's beneath . . . Katie's carefully structured world is shattered by the news that her headstrong younger sister, Mia, has been found dead in Bali - and the police claim it was suicide. With only the entries of Mia's travel journal as her guide, Katie retraces the last few months of her sister's life, and - page by page, country by country - begins to uncover the mystery surrounding her death. What she discovers changes everything. But will her search for the truth push their sisterly bond - and Katie - to breaking point? The Sea Sisters is a compelling story of the enduring connection between sisters.
Information
Format: Paperback
Pages: 400 pages
Publisher: HarperCollins Publishers
Publication Date: 09/05/2013
ISBN: 9780007481347
Free Home Delivery
on all orders
Pick up orders
from local bookshops
Reviews
Showing 1 - 1 of 1 reviews.
Review by julia.flyte
16/06/2015
Katie and Mia are sisters and they are complete opposites. Katie is organised and responsible, while Mia doesn't last 5 minutes in a job and is very highly strung. They have been raised by their mother after their father left when they were very young. After their mother dies of cancer, Mia spontaneously decides to take a trip around the world with her best friend, Finn. Several months later, after only very sporadic contact from Mia, Katie is woken by a knock on the door in the middle of the night. Mia's body has been found at the foot of a cliff in Bali and the authorities have concluded that she committed suicide. Katie's reaction is one of disbelief - Mia wouldn't have done that. In the end, armed with Mia's travel journal, she decides to trace Mia's footsteps around the world in an effort to understand what was going through Mia's head and whether Mia killed herself or not.This is an easy book to read and it's an interesting premise but the story hinges on so many unlikely coincidences and choices and that really undermined it for me. I couldn't imagine anyone behaving like Katie did. Your sister has killed herself on the other side of the world, you can't imagine what was going through her head and you're armed with her travel diary - so wouldn't you read it? Or talk to the friend who was travelling with her? But no, instead of doing any of these things - and despite the fact that she's getting married in four months' time - Katie books a three month trip for herself, deciding to go to all the places that Mia visited and only read the travel diary day by day, when she's in the same place where Mia was as she wrote each entry. So for example she spends a month travelling up and down the West Coast of Australia before even heading to Bali. It just doesn't feel even remotely realistic!I also felt that the characters were hard to believe. They tended to behave in ways that served the plot rather than ways that real people would behave. Katie and Finn in particular felt quite under-developed to me. There are also lots of back stories between the various characters which will emerge over the course of the book. So what that means is that people withhold information so that it doesn't get revealed too early - Ed in particular does something midway through the book that I think he would actually have done much earlier (I won't explain further but if you've read the book you'll know what I mean).So in summary, this is a good holiday read, undemanding and reasonably intriguing, with plenty of twists and a mystery that holds out till the end. However I didn't feel that it was in any way a standout. I did however like the descriptions of the places that Mia and Katie travel too - they really came alive for me and made me feel like slinging a backpack on myself!In the US, this book has been published under the title "Swimming at Night".