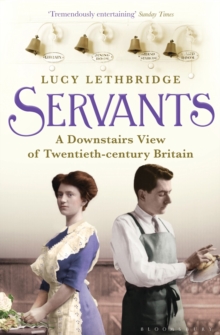 Servants : A Downstairs View of Twentieth-century Britain
Paperback
Description
Servants: A Downstairs View of Twentieth-century Britain is the social history of the last century through the eyes of those who served.
From the butler, the footman, the maid and the cook of 1900 to the au pairs, cleaners and childminders who took their place seventy years later, a previously unheard class offers a fresh perspective on a dramatic century.
Here, the voices of servants and domestic staff, largely ignored by history, are at last brought to life: their daily household routines, attitudes towards their employers, and to each other, throw into sharp and intimate relief the period of feverish social change through which they lived.
Sweeping in its scope, extensively researched and brilliantly observed, Servants is an original and fascinating portrait of twentieth-century Britain; an authoritative history that will change and challenge the way we look at society.
Information
Format: Paperback
Pages: 400 pages, illustrations (black and white, and colour)
Publisher: Bloomsbury Publishing PLC
Publication Date: 12/09/2013
Category: British & Irish history
ISBN: 9781408842706
Free Home Delivery
on all orders
Pick up orders
from local bookshops
Reviews
Showing 1 - 1 of 1 reviews.
Review by SandDune
16/06/2015
Lucy Lethbridge gives an entertaining and thought provoking view of the realities of servant life in the twentieth century. From the swan song of the great country house with its servant for every task to the inter-war years when the impossibility of finding a good servant seemed to be at the forefront of many a (female) writer's mind, to the Second World War when the place of home grown domestics was frequently taken by Jewish refugees brought up to have servants of their own, to today's completely different social climate, where the middle and upper classes retain a mixture of cleaning ladies, gardeners, au-pairs and nannies (but of course never servants).There's a tendency to think of servants as existing in the world of <I>Downton Abbey</I> and <I>Upstairs Downstairs</I> but for the majority of servants life was very different. Of the one and a half million female servants in Edwardian Britain (out of a total female workforce of four million) the majority worked in single servant households. And when you consider how far down the social structure servant keeping went this isn't perhaps surprising. With the middle-classes servant keeping was a requirement of respectability but even prosperous members of the working class, faced with a growing family and housework that was a much more back-breaking operation than it was today would be tempted to hire a servant:<blockquote><I>Among the higher class artisans, the little nurse-girl, the young slavey or general and the periodical char woman are quite frequent; for in this class the daughters of the house on leaving school are generally put out to some trade, and the mother of the house has her hands full with the cooking, mending and washing, for a family with a standard to maintain; but it is rare to find an adult servant in possession of all her faculties until you come to the shop-keeping class.</I></blockquote>And those maids of all work would not have the good food and decent living conditions that might be expected in the big houses either. A bed in the kitchen and breakfast of bread and dripping with herring every day for dinner might be all that was available from them.And as the century progressed, and more and more opportunities opened for women elsewhere the middle classes became more and more desperate to find the servants that they consider essential. And it's clear that they really did consider them essential: labour-saving devices having failed to make an early appearance in British homes largely because of the perception that the 'labour' that they purportedly saved was that of the servants, who would somehow be 'spoilt' if their jobs were made too easy. And it's clear that most of the women writers of the period, while very clear on their own rights to a fulfilling intellectual and cultural life, were rather more vague when it came to the same rights of their female servants.There are some many quotes from this book that I'd like to share, but here is just one piece of advice offered by a mother-in-law to a new wife that illustrates the appalling snobbery that existed at the beginning of the period in question:<blockquote><I>Army or naval officers, diplomats or clergymen might be invited to lunch or dinner. The vicar might be in invited regularly to Sunday lunch or supper if he was a gentleman. Doctors and solicitors might be invited to garden parties, though never, of course, to lunch or dinner. Anyone engaged in the arts, the stage, trade or commerce, no matter how well connected, could not be asked to the house at all.</I></blockquote>One thing which I hadn't appreciated before reading this book was that the gulf in the status of the servant employing classes and the servants themselves was one that to a large part had been a creation of the nineteenth century. In earlier centuries the divide had been much less fixed and more fluid, so that servants were almost part of the family (albeit a less important part). This makes sense when I consider some of the particularly old books I have read, but was something I hadn't really given any thought to previously.