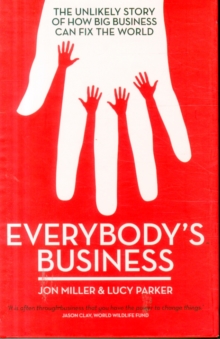 Everybody's Business
Hardback
Description
Is big business part of the problem or part of the solution?
Sometimes it seems as if business exists purely to enrich a small elite.
While the world is facing unprecedented challenges, it appears that businesses are only interested in making profits or paying bonuses.
Big businesses are powerful machines. We all know they have the potential to harm; but with their resources and expertise they can also be great engines of positive change.
Rather than fighting the power of business, should we be seeking to harness it?
Everybody's Business is a journey through the business world.
We meet the companies that are driving business forward by mobilising to tackle the challenges we all face.
At its heart, this is a story of businesses doing what they do best: delivering products and services that people need, creating jobs and finding new ways to solve old problems.
It's a story of people taking the initiative, and finding inspiration in the positive impact of their actions.
We see how some of today's leading companies are realising that lasting success comes from having a purpose broader than making a profit. They know that business should benefit customers, employees, suppliers, neighbours and the wider world, as well as shareholders.
Enduring value comes from making business work for everybody.
Start a conversation about the role of big business in the world and, often even before you reach the end of your first sentence, you'll find you've unleashed a furious response.
To many, it feels as though business has become detached from society it seems like part of the problem, not part of the solution.
That's not good for the world: we're facing global challenges of unprecedented magnitude, and business has the scale, resources and expertise to make a positive difference.
This book puts a powerful argument that if you want to fix the world, you're better off harnessing the power of business, rather than fighting it. Royalties from this book will support the work of TechnoServe - an NGO working on business solutions to poverty.
Information
Format: Hardback
Pages: 356 pages
Publisher: Biteback Publishing
Publication Date: 04/10/2013
Category: European history
ISBN: 9781849546089
Free Home Delivery
on all orders
Pick up orders
from local bookshops