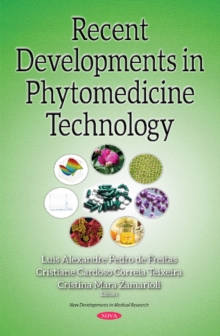 Recent Developments in Phytomedicine Technology
Hardback
Description
Phytomedicines have been playing an important role since the beginning of civilisation, curing many diseases and alleviating different symptoms for the wellbeing of humans and animals.
The millenary history of medicinal plant use and its derivatives give credibility to the development of new and advanced pharmaceutical forms of phytomedicines, which may play an important role in social medicine for developing countries.
A renewed interest for herbal medicines and phytomedicine has been observed in recent years.
However, adulteration and misidentification of crude drugs still exist.
Thus, the development of standardisation and quality control of herbal medicines needs to be prioritised at the earliest stage.
Furthermore, the increasing demand for natural food antioxidants has fostered worldwide research for extracting biologically active substances from a variety of raw vegetal materials.
However, the modern use of plant-derived medicines must be based on reliable and reproductive processes as well as manufacturing techniques to preserve chemical composition and therapeutic effectiveness of the plant extract.
This can be achieved only through the knowledge and scientific approach to all steps involved in phytomedicine production, such as the pharmacognostic evaluation, extraction process, drying of the extracts and pharmacotechnical preparation of the final pharmaceutical form.
This book compiles recent advances in the pharmaceutical industrial process and phytomedicine carries development.
It is suitable for different levels of undergraduate study and/or the facilitation of pharmaceutical industrial processes.
Information
Format: Hardback
Pages: 225 pages
Publisher: Nova Science Publishers Inc
Publication Date: 01/08/2017
Category: Clinical trials
ISBN: 9781536119770
Free Home Delivery
on all orders
Pick up orders
from local bookshops