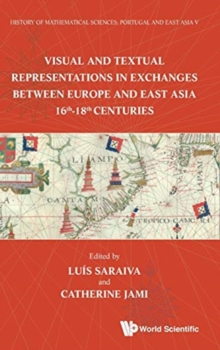 History Of Mathematical Sciences: Portugal And East Asia V - Visual And Textual Representations In Exchanges Between Europe And East Asia 16th - 18th Centuries
Hardback
Description
In recent years, research on the history of early modern cartography has undergone remarkable developments.
At the same time, European travel accounts and works on China and Japan are also being investigated more systematically.
Finally, studies of translations between European and East Asian languages have highlighted the more general issue of how and to what extent representations of the world that prevailed at one end of Eurasia informed and influenced the representations prevailing at the other end of the continent, sometimes to the point that novel forms of representations were being generated.This volume brings together a series of essays on this theme.
It is divided into five sections which address as many topics: the textual representation of the 'Other'; 16th- and 17th-century maps of China, Japan and Vietnam; the phenomenon of hybridisation in visual representations; knowledge and representations of the world in Europe and East Asia; and the circulation of representations of the heavens in astronomy between these two regions.
Information
Format: Hardback
Pages: 388 pages
Publisher: World Scientific Publishing Co Pte Ltd
Publication Date: 13/08/2018
Category: History of mathematics
ISBN: 9789813233249
Free Home Delivery
on all orders
Pick up orders
from local bookshops