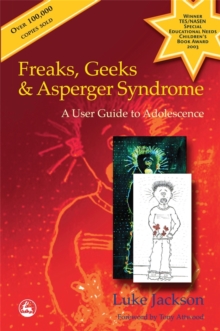 Freaks, Geeks and Asperger Syndrome : A User Guide to Adolescence
Paperback
Description
Part of the Reading Well scheme. 27 books selected by young people and health professionals to provide 13 to 18 year olds with high-quality support, information and advice about common mental health issues and related conditions.Winner of the NASEN & TES Special Educational Needs Children's Book Award 2003Have you ever been called a freak or a geek?
Have you ever felt like one? Luke Jackson is 13 years old and has Asperger Syndrome.
Over the years Luke has learned to laugh at such names but there are other aspects of life which are more difficult.
Adolescence and the teenage years are a minefield of emotions, transitions and decisions and when a child has Asperger Syndrome, the result is often explosive.Luke has three sisters and one brother in various stages of their adolescent and teenage years but he is acutely aware of just how different he is and how little information is available for adolescents like himself.Drawing from his own experiences and gaining information from his teenage brother and sisters, he wrote this enlightening, honest and witty book in an attempt to address difficult topics such as bullying, friendships, when and how to tell others about AS, school problems, dating and relationships, and morality.Luke writes briefly about his younger autistic and AD/HD brothers, providing amusing insights into the antics of his younger years and advice for parents, carers and teachers of younger AS children.
However, his main reason for writing was because "so many books are written about us, but none are written directly to adolescents with Asperger Syndrome.
I thought I would write one in the hope that we could all learn together".
Information
Format: Paperback
Pages: 216 pages
Publisher: Jessica Kingsley Publishers
Publication Date: 15/08/2002
Category: Autobiography: general
ISBN: 9781843100980
Free Home Delivery
on all orders
Pick up orders
from local bookshops
Reviews
Showing 1 - 3 of 3 reviews.
Review by SmithSJ01
16/06/2015
This is a fantastic book regardless of why you are reading it. I have worked in the past, and still do, with children who have AS and this was my main reason for reading it. It has such a different feel from other books as he is only 13 and this comes across so much in the book. I have read other books by teenagers and young adults with the same condition and they are equally just as good. I liked the fact that it all seemed to be Luke coming through rather than an adult's influence (apart from the obvious guidance and tidying up a book would need before it gets published). The topics he covers are very relevant to those who have AS and those who come in contact with AS. Aspects such as bullying, fixations, sleeping, sports, friendships, dating, difficulties at school and language are dealt with brilliantly. However the most pertinent chapter for me was the one about when to tell a child they have AS.Luke used his immediate sources - mother and siblings to help him with some of the content so that others with the condition can understand how people see them and this was such a good part of the book. I loved the idioms he uses and laughed out loud in many places. Not only will it give people an insight there is also practical information in there with websites, books and dietary information (also discussed in his other book). A fabulous read that is both inspirational and refreshing.
Review by EmScape
16/06/2015
Author Luke Jackson is a 13-year-old British boy with Asperger Syndrome. He has written this book in order to help AS kids understand themselves, and help parents and caregivers understand their charges. As such, it is an invaluable resource. Luke writes with clarity and humor, explaining from the inside of an AS mind why these kids do what they do, and validating their feelings and struggles. Except for some British slang and idioms, any of my AS clients would find his work understandable and relatable. Also helpful is a list of resources at the back of the book for more information on AS, ADHD and Autism.
Review by EinfachMich
16/06/2015
I would recommend this book to parents, teachers and especially Autistic kids, no matter where they are on the spectrum. Luke not only provides invaluable insight into how AS affects his life, but how Autism affects the lives of his two younger brothers. He also provides helpful, bullet point, lists on how to manage everything from sleeping, homework and even dating. <br/><br/>The title is quite apt, because this is truly a guide to handling many of the challenges teens with Autism face on a daily basis. <br/><br/>Additionally, I would recommend this book to any authors attempting to write fictional stories featuring Autistic characters. Luke breaks down a lot of stereotypes prevalent in pop culture today.<br/><br/>He is witty, optimistic and has a great deal insightful in to human social behavior. His sense of humor is charming and very relatable. I personally found his unique perspective on the subtly of language and contradictions in social expectations to be enlightening. <br/><br/>This book a fun, informative read. I really cannot recommend it enough.