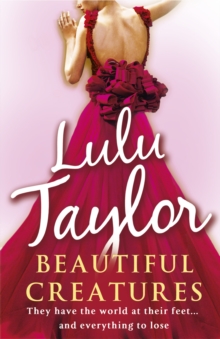 Beautiful Creatures
Paperback
Description
Everyone has heard of the Beaufort twins, but few have ever seen them...On the eve of their 21st birthday, at one of the most lavish parties society has ever seen, Octavia and Flora Beaufort are launched into the world.
For Octavia, it is one of the most thrilling nights of her life, an evening glittering with the promise of her future.
But Flora shrinks from the limelight, fearful of what lies beyond the walls of her over-protective aunt's house.
As Octavia is swept into a whirlwind of lavish spending and fashionable society, she grasps eagerly at whatever she wants: clothes, houses, men...even a department store.
But Flora yearns for security - and when she is rescued from harm by a kind stranger, she seems to have found the love and protection she craves.
Prey to all kinds of dangers, the twins soon realise that without each other, they run the risk of losing everything.
But is it already too late...?
Information
Format: Paperback
Pages: 672 pages
Publisher: Cornerstone
Publication Date: 01/01/2011
ISBN: 9780099550457
Free Home Delivery
on all orders
Pick up orders
from local bookshops
Reviews
Showing 1 - 1 of 1 reviews.
Review by jolzyn
16/06/2015
I read all books by Lulu Taylor and really like her writing style. In fact, i have been waiting for this ebook version for so long and remember how ecstatic i am when i realised that i can buy the ebook from Kobo. ;) I recalled the dramatic elements in each of her books and this book is not exempted from its conflicts and dramatic elements.The story is about a pair of twins who set to inherit hundred of millions inheritance from their father, found themselves faces with a world that they have no idea about. Olivia, the older twin who have a strong personality found herself to be able to adapt to the strange environment and is excited to explore and experience such an adventures which totally different from the environment where they lived before. Flora on the other hand, have a very fragile personality. She is timid and find it extremely hard to adapt to the new environment. Being lived and guarded all their lives, they are now on their own to live the life they want yet they have no idea how to. Being extremely rich, they soon find themselves being crowded with strangers who want to befriend them and vying for their attention which have lead to disaster and lesson that they will not forget.I can hardly put down my ereader especially when i reached the Third part of the book ( there are three parts) where i think is the peak of the climax where Octavia rescued Flora from her husband, Otto (a maniac) and at the same time, found her boyfriend, Ethan have been siphoned her money out of the company where both of them have shared. The story plot move very fast, so fast that i almost breathless just by chasing after it :) Overall, this book is by far the best book by the author and i am really hoping for the latest book scheduled to be publish in May is as good as this book!