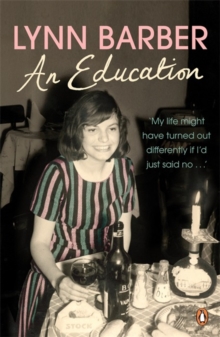 Description
When the journalist Lynn Barber was 16, she was picked up at a bus-stop by an attractive older man who drew up in his sports car - and her life was almost wrecked.
A bright confident girl, on course to go to Oxford, she began a relationship which, incredibly, was encouraged by her conventional, suburban parents and which took her into the louche, semi-criminal world of west London just as the 1960s began.
Ruin beckoned, until one day she made an important discovery.'An Education', the opening piece of this fascinating memoir, was highly praised when first published in Granta magazine, and is currently being filmed by the BBC with a Nick Hornby script.
Information
Format: Paperback
Pages: 224 pages, 8pp inset
Publisher: Penguin Books Ltd
Publication Date: 25/06/2009
Category: Memoirs
ISBN: 9780141039558
Other Formats
EPUB from £5.49
eAudiobook MP3 from £11.72
Free Home Delivery
on all orders
Pick up orders
from local bookshops
Reviews
Showing 1 - 3 of 3 reviews.
Review by mairangiwoman
16/06/2015
I enjoyed this quick lightish read. Most of the attention is grabbed by her romantic involvement with a much older con man when she is 16 and 17. She goes on to develop sense and have an interesting life but I thought for such a well known journo she could have made the rest of her life come alive for us a bit better than she did.The film is marvellous and great for us who remember the boredom and semi repression of late 50s and into early 60s - then the waking up and people having a much better time!
Review by elkiedee
16/06/2015
Lynn Barber's memoir is a short, enjoyable read, which is delightfully candid about everything that happened to her.At 16 she had an affair with a much older man, and this part of the book has had quite a lot of press coverage, but I found the rest of the book just as interesting, perhaps more so. She starts with an account of how her elocution teacher mother pushed her into a way of speaking which she has never felt comfortable with and tried to encourage her into an acting career. Bizarrely, Barber's parents never discouraged her affair with dodgy older man Simon, in fact they positively encouraged it and were thrilled when she announced she was going to marry him. What were they thinking of?Barber had a lot of fun as a university student and a journalist, and there are lots of entertaining anecdotes about a career which included several years working for Penthouse. I'm no great fan of pornography, but still found this engaging to read. Then she moved into newspaper and magazine journalism.The final part of the memoir is a bit darker in tone, as it describes quite sad events in her personal life. The appeal of this book is in Barber's wit and honesty, and her writing skill as a feature journalist.
Review by nicx27
16/06/2015
I wanted to read this memoir before seeing the film of the same name (which is actually only based on a small section of the book). It's a good read, if not particularly meaty, but actually I did find it a good length for a memoir. Just enough to keep the reader's interest, but not too detailed that it becomes tedious.The chapter about Barber's relationship with the older man is great, and I can see why that inspired the film. Very moving was the chapter about losing her husband. But let's not forget her days at Penthouse - she's certainly had a rich and varied life to date, and I can see why she made a career from writing, as her style is pithy and witty.I would recommend this book if you like a fairly light memoir (and I'd also recommend the film).