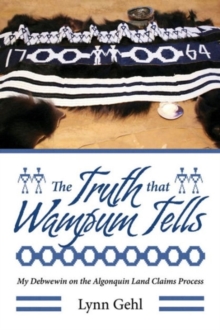 The Truth that Wampum Tells : My Debwewin on the Algonquin Land Claims Process
Paperback / softback
Description
From the Foreword: I am inclined to think that when Creator lowered Lynn to Mother Earth it was for her to complete this difficult task of bravery.
Indeed we can all learn from her, as she has fulfilled her responsibility. - Heather Majaury In commemoration of the 250th anniversary of the Treaty at Niagara, The Truth that Wampum Tells offers readers a first-ever insider analysis of the contemporary land claims and self-government process in Canada.
Incorporating an analysis of traditional symbolic literacy known as wampum diplomacy, Lynn Gehl argues that despite Canada's constitutional beginnings, first codified in the 1763 Royal Proclamation and ratified during the 1764 Treaty at Niagara, Canada continues to deny the Algonquin Anishinaabeg their right to land and resources, their right to live as a sovereign nation and consequently their ability to live mino-pimadiziwin (the good life).
Gehl moves beyond Western scholarly approaches rooted in historical archives, academic literature and the interview method. She also moves beyond discussions of Indigenous methodologies, offering an analysis through Debwewin Journey: a wholistic Anishinaabeg way of knowing that incorporates both mind knowledge and heart knowledge and that produces one's debwewin (personal truth).
Information
Format: Paperback / softback
Pages: 176 pages
Publisher: Fernwood Publishing Co Ltd
Publication Date: 18/07/2014
Category: Indigenous peoples
ISBN: 9781552666593
Free Home Delivery
on all orders
Pick up orders
from local bookshops