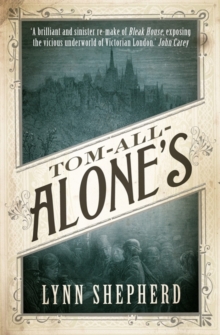 Tom-All-Alone's
Paperback
Description
The story of Tom-All-Alone's takes place in the 'space between' two masterpieces of mid-Victorian fiction: Bleak House and The Woman in White - overlapping with them, and re-imagining them for a contemporary reader, with a modern understanding of the grimmer realities of Victorian society.Charles Maddox, dismissed from the police force, is working as a private detective and can only hope to follow in his uncle's formidable footsteps as an eminent thief-taker. On a cold and bright Autumn morning, a policeman calls on Charles at his lodgings with information that may be related to a case he is working on. He goes to a ruined cemetery to find a shallow grave containing the remains of four babies has been discovered.
After examining them he concludes they are not related to his investigation, which is to find a young girl abandoned in a workhouse 16 years before, when her mother died. But all is not as it first appears. As he's drawn into another case at the behest of the eminent but feared lawyer, Edward Tulkinghorn, London's sinister underbelly begins to emerge. From the first gruesome murder, Charles has a race against time to establish the root of all evil.Tom's-All-Alone is 'Dickens but darker' - without the comedy, without the caricature, and a style all its own.
The novel explores a dark underside of Victorian life that Dickens and Collins hinted at - a world in which young women are sexually abused, unwanted babies summarily disposed of, and those that discover the grim secrets of great men brutally eliminated.
Information
Format: Paperback
Pages: 320 pages
Publisher: Little, Brown Book Group
Publication Date: 20/12/2009
Category: Historical fiction
ISBN: 9781780331690
Free Home Delivery
on all orders
Pick up orders
from local bookshops
Reviews
Showing 1 - 1 of 1 reviews.
Review by foolplustime
16/06/2015
I came to this book with no knowledge of Wilkie Collins' The Woman In White, and very little knowledge of Dickens' Bleak House - I vaguely remember the BBC TV series. I didn't have any great problems following the plot or anything else, but I am left with the feeling that various things have passed me by.The book is slow to get going, but once it does, it's quite good ... in parts. It's a bit too cute for its own good at times (having a character reading a Charles Dickens novel aloud, for instance), and the various walk-on cameos are exactly that and as a consequence bog down the text somewhat.The great problem for me is the point: I miss it. If I'm able to read and - fairly - enjoy it without having read Bleak House, why does it need to be so linked at all? What does it bring to the party? I do feel that if the author had made everything up themselves, the whole thing would have been far more enjoyable. I was reminded very much of Essie Fox's Elijah's Mermaid which I disliked because of it's epically stupid plotting in the second half, but if you like that (or this), you'll probably like the other.