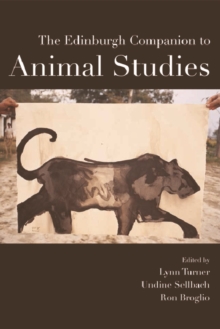 The Edinburgh Companion to Animal Studies
Hardback
Description
Provides cross-disciplinary perspectives on the study of animals in humanitiesThis volume critically investigates current topics and disciplines that are affected, enriched or put into dispute by the burgeoning scholarship on Animal Studies.
What new questions and modes of research need come into play if we are to seriously acknowledge our entanglements with other animals?
World-leading scholars from a range of disciplines, including Literature, Philosophy, Art, Biosemiotics, and Geography, set the agenda for Animal Studies today.
Rather than a narrow specialism, the 35 newly commissioned essays in this book show how we think of other animals to be intrinsic to fields as major as ethics, economies as widespread as capitalism and relations as common as friendship.The volume contains original, cutting-edge research and opens up new methods, alignments, directions as well as challenges for the future of Animal Studies.
Uniquely, the chapters each focus on a single topic, from 'Abjection' to 'Voice' and from 'Affection' to 'Technology', thus embedding the animal question as central to contemporary concerns across a wide range of disciplines.Key FeaturesProvides in one work prominent scholars in animal studies and their reflections on the trajectory of the fieldEmbeds the 'animal question' as central to contemporary concerns across a wide range of disciplinesBrings discourses from the sciences into dialogue with the arts and humanitiesOpens up new methods, alignments, directions and challenges for the future of animal studiesAfterword from Cary Wolfe (Bruce and Elizabeth Dunlevie Professor of English, Rice University)
Information
Format:Hardback
Pages:576 pages, 11 B/W illustrations
Publisher:Edinburgh University Press
Publication Date:30/04/2018
Category:
ISBN:9781474418416
Also in the Edinburgh Companions to Literature series | View all