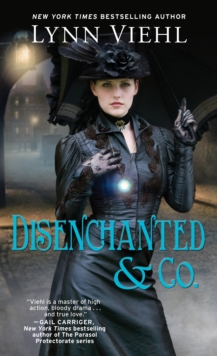 Disenchanted & Co.
Paperback
Description
Unlike most folks, Kit doesn't believe in magic, but she can't refuse to help Lady Diana Walsh, who claims a curse is viciously wounding her while she sleeps.
As Kit investigates the Walsh family, she becomes convinced that the attacks are part of a more ominous plot-one that may involve the lady's obnoxious husband.
Sleuthing in the city of Rumsen is difficult enough, but soon Kit must also skirt the unwanted attentions of a nefarious deathmage and the unwelcome scrutiny of the police Chief Inspector.
Unwilling to surrender to either man's passion for her, Kit struggles to remain independent as she draws closer to the heart of the mystery.
For the truth promises to ruin her life-and turn Rumsen into a supernatural battleground from which no one will escape alive.
Information
Format: Paperback
Pages: 416 pages
Publisher: Simon & Schuster
Publication Date: 28/01/2014
ISBN: 9781476722351
Free Home Delivery
on all orders
Pick up orders
from local bookshops
Reviews
Showing 1 - 5 of 5 reviews.
Review by SilkOcean
16/06/2015
I just started reading this book and so far, it is a wonderful read. The author's writing style is very good. After I finish the book, I will update my review.
Review by CinaChilders
16/06/2015
Disenchanted & Co is an extremely interesting and imaginative book. The heroine, Charmian "Kit" Kittredge is admirable, strong willed, determined to be as independent as she can possibly be in her time. The book is very well written, well-paced. The ending was one I never saw coming. I don't believe I have ever read anything even close or comparable to Disenchanted, and so it remarkably stands on its own little pedestal on my bookshelf. I also thought the little "Torian" glossary in the back was pretty neat.
Review by ChrisWeir
16/06/2015
Received this in a book giveaway. Love the steampunk qualities to it. This involves a lady detective of sorts in a North America where the US did not win the war against England. Was 2/3 of the way through the book before I stumbled upon the glossary in the back of the odd slang that they sometimes use. By that point I had already figured out most of the terms as they were used in context.Plot: It has a lady detective in a Victorian era where England still controls North America. In this steampunk type world both magic and science exist. Kit the heroin of the story is in the business of dismissing so called ghosts and spirits and other things that go bump in the night. She takes on a wealthy client at the beginning of the story who is being visited at night by a poltergeist. This sets our story in motion as the rich and famous should not be subjected to things of this sort. Thus begins a wild ride in a Victorian era that never was. Was a very good read although some of the language was hard to get used to at first. Look forward to seeing the other books in the series.
Review by Perednia
16/06/2015
In a steampunk world in which the United States lost the Revolutionary War and people believe in the evil power of magic, Kit stands out.She is an independent woman, a rarity, who makes her own living. She is more feisty and more spunky than any standard romance heroine, with quick wits, a sharp tongue and a network of friends. She doesn't believe in magic. Kit actually makes her living as an investigator disproving the existence of magic and proving the existence of charlatans and quacks.But in accepting the case of Lady Diana Walsh, a noblewoman suffering unexplained cruel words carved onto her at night, our intrepid heroine may well have gone too far. Her client's powerful husband is dead-set against the investigation. So is Lucien Dredmore, another powerful man who may present a very personal challenge to Kit. Lucien is wicked and urbane, the complete opposite of Kit's childhood pal, Inspector Tommy Doyle. So it's easy to predict who Kit is drawn to, even as she fights him off.This is the set-up of the full-length novel of Lynn Viehl's story, which sets up the beginning of a gloriously realized steampunk world in which magic and the Industrial Revolution collide in what is now the western United States. Disenchanted & Co. also sets up Kit's own journey from a female adventurer to a deeper, more feeling character with a backstory she is just discovering for herself as the narrative unfolds.The only problem with the novel is that Viehl apparently wrote herself into a corner with the plot machinations and pulls a twist near the end that didn't have the same swashbuckling, clever tone as the rest of the novel in which Kit is the mistress of her own destiny and rescues herself. Once that point is passed, however, Viehl sets things up for a series that can appeal to steampunk, mystery and romance fans. It's certainly a series that deserves a look at the second novel, The Clockwork Wolf.
Review by bgknighton
16/06/2015
Very strong beginning to this series! Like Kit a lot -- she has a lot to learn, but she doesn't whine, gets around a lot, listens, learns. Interesting side characters. Hope she get to learn more about her family and abilities soon.
Also by Lynn Viehl