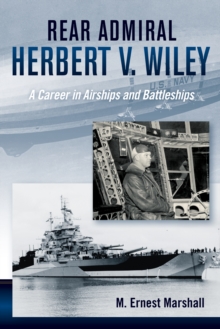 Admiral Herbert V. Wiley U.S. Navy : A Career in Airships and Battleships
Hardback
Description
This book is simultaneously a biography of Admiral Herbert Victor Wiley and a history of the U.S.
Navy's lighter-than-air program. As tensions rose between Japan and the U.S. over control of East Asia and the Pacific Ocean the prospects of war between the two nations increased.
The Navy tracked the Germans' use of zeppelins during the First World War and saw in them an aircraft with the potential to conduct long-range reconnaissance over the oceans - something that could not be achieved by airplanes or surface ships.
While rapid progress was being made in manned flight it was still young enough that the future of LTA vs.
HTA flight was unknown. At the time however airships had a much greater range than airplanes making them suitable for reconnaissance.
In its history the Navy had four great airships - the U.S.S.
Shenandoah the U.S.S. Los Angeles the U.S.S. Akron and the U.S.S. Macon. Wiley served on all four of these airships and the history of these vessels is covered through the career of Wiley.
Three of the airships ended in disaster and Wiley survived the crash of two of them.
The book explores in detail the events leading to the crash of each airship through examination of the records of the Navy's Courts of Inquiry that investigated the cause of each crash.
The book also tracks issues surrounding the use of non-flammable helium as a lifting gas instead of highly explosive hydrogen used by the Germans.
The U.S. had a monopoly on the supply of helium. While Germany sought to purchase helium from the U.S. the government board governing the sale of helium blocked is availability to Germany on the basis it might be used for wartime purposes. Dr. Hugo Eckener had run the Zeppelin works in Friedrichshaven since the end of WWI and he had a vision for LTA flight that was peaceful including international transoceanic passenger and freight services.
The outbreak of WW II ended the zeppeling industry and dashed all of Eckener's dreams.
Following the crash of the Macon Wiley returned to the surface fleet eventually becoming Commander of Destroyer Squadron 29 in the Asiatic Fleet shortly before the bombing of Pearl Harbor.
Information
Format: Hardback
Pages: 352 pages, 27 photos, 1 map
Publisher: Naval Institute Press
Publication Date: 30/11/2019
ISBN: 9781682473177
Also in the History of Military Aviation series | View all