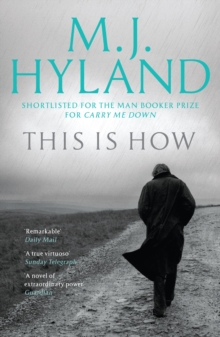 Description
All actions have consequences. This is how life goes. Patrick is a loner, an intelligent but disturbed young man struggling to find his place in the world. He ventures out on his own, and, as he begins to find happiness, he commits an act of violence that sends his life horribly and irreversibly out of control. But should a person's life be judged by a single bad act?
This is How is a compelling and macabre journey into the dark side of human existence and a powerful meditation on the nature of guilt and redemption.
Information
Format: Paperback
Pages: 400 pages
Publisher: Canongate Books Ltd
Publication Date: 01/03/2010
ISBN: 9781847673831
Free Home Delivery
on all orders
Pick up orders
from local bookshops
Reviews
Showing 1 - 5 of 7 reviews.
Previous | Next
Review by firedrake1942
16/06/2015
a disturbing and compelling read. A brilliant follow up to Carry me down. Patrick is iniaiily and indeed for much of the book wholly unsympathetic and yet vulnerable and pathetic creature his fate seems almost preordained yet he is the author of his own misfortune with a Larkinesque nod to the nature / nurture debate. The corruption and abuse inside the prison system is well documented. A must read! !!!
Review by Booksloth
16/06/2015
A cross between Camus's The Outsider and almost anything by Patrick Hamilton, This Is How is the story of a young men who escapes the humdrum life of his parents to start a new life in what appears to be an equally bleak seaside town. However, he never really fits in with the people whose lives he shares and this lack of connection is what leads him, in a moment's insanity, to commit an act that changes his life forever. I wasn't a huge fan of Hyland's Carry Me Down but this book worked much better for me. The protagonist's world is seeped in boredom, mundanity and a sense of isolation from his fellow human beings. The book is gritty and realistic and readers should not expect a happy ending - more an examle of how life sucks and keeps on sucking.
Review by benjaminjudge
16/06/2015
I was a little disappointed with This Is How, having enjoyed Carry Me Down, Hyland's last novel. In fairness to the book it is called This Is How and not This Is Why but the characters motivation for the act of violence he commits (I'm trying not to give too much away here) seems a little forced. Are we supposed to read that this was the result of building tension in his life or an act that any of us could commit. Neither seems very convincing. There is an obvious parallel between This Is How and Camus' L'Étranger which is clearly intentional but I must admit to being unsure of what Hyland's motives were for revisiting, updating, that text. Camus too, is more successful at summing up the universal. Perhaps Hyland is seeking to say this is not universal but personal. As I say, I don't know. The novel won't let you in enough to find out.Least successful of all was part two, Patrick's description of his incarceration. Part one left me with no interest in the protagonist, and no interest in his story. I didn't care. I had no interest in reading on. The novel's conclusion deserved a better novel preceding it. It is interesting that most of the press reviews tell of feeling great sympathy for Patrick because this doesn't seem to be reflected in the reviews I have read so far on Library Thing. Perhaps we just aren't a very sympathetic lot.Having said all this, I will probably return to Hyland at some point. She is a good writer and I would recommend Carry Me Down. This Is How has been long-listed for the Orange Prize too, so I am probably not in the majority in thinking it a fairly flimsy work.
Review by Lezzles
16/06/2015
I might not have chosen to buy this had I not received it as an early review copy from LibraryThing. I enjoyed it, despite its bleakness. It's a bit like Albert Camus' The Outsider only set in contemporary GB.
Review by Suva
16/06/2015
Hyland manages to be spare with her language and amazingly affecting at the same moment. She has the ability to present a tragic story with a glimmer of hope so slight that I felt like I could only spot it in the corner of my eye. The work of an author totally at ease with her style.