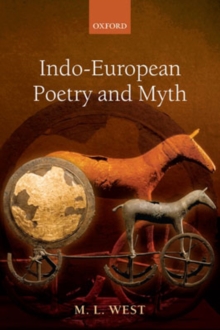 Indo-European Poetry and Myth
Hardback
Description
The Indo-Europeans, speakers of the prehistoric parent language from which most European and some Asiatic languages are descended, most probably lived on the Eurasian steppes some five or six thousand years ago.
Martin West investigates their traditional mythologies, religions, and poetries, and points to elements of common heritage.
In The East Face of Helicon (1997), West showed the extent to which Homeric and other early Greek poetry was influenced byNear Eastern traditions, mainly non-Indo-European.
His new book presents a foil to that work by identifying elements of more ancient, Indo-European heritage in the Greek material.
Topics covered include the status of poets and poetry in Indo-European societies; metre, style, and diction; gods and othersupernatural beings, from Father Sky and Mother Earth to the Sun-god and his beautiful daughter, the Thunder-god and other elemental deities, and earthly orders such as Nymphs and Elves; the forms of hymns, prayers, and incantations; conceptions about the world, its origin, mankind, death, and fate; the ideology of fame and of immortalization through poetry; the typology of the king and the hero; the hero as warrior, and the conventions of battle narrative.
Information
Format: Hardback
Pages: 540 pages
Publisher: Oxford University Press
Publication Date: 01/06/2007
ISBN: 9780199280759
Other Formats
Paperback / softback from £49.85
Free Home Delivery
on all orders
Pick up orders
from local bookshops