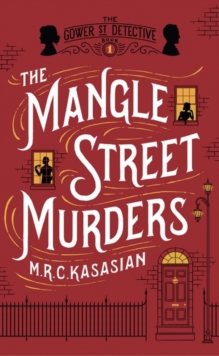 The Mangle Street Murders
Hardback
Description
Gower Street, London, 1882. Sidney Grice, London's most famous personal detective, is expecting a visitor.
He drains his fifth pot of morning tea, and glances outside, where a young, plain woman picks her way between the piles of horse-dung towards his front door.
Sidney Grice shudders. For heaven's sake - she is wearing brown shoes. Set between the refined buildings of Victorian Bloomsbury and the stinking streets of London's East End, THE MANGLE STREET MURDERS is for those who like their crime original, atmospheric, and very, very funny.
THE GOWER DETECTIVE SERIES: The Mangle Street Murders.
The Curse of the House of Foskett. Death Descends on Saturn Villa.
Information
Format: Hardback
Pages: 336 pages
Publisher: Head of Zeus
Publication Date: 07/11/2013
Category: Historical mysteries
ISBN: 9781781851845
Other Formats
Paperback from £6.35
CD-Audio from £15.45
eAudiobook MP3 from £16.76
Free Home Delivery
on all orders
Pick up orders
from local bookshops
Reviews
Showing 1 - 3 of 3 reviews.
Review by jtck121166
16/06/2015
I'm loving this delightful parody of the Victorian murder mystery.The author clearly finds the while genre ridiculous (as do I, though perhaps to a lesser extent), and sets out to expose the nonsense. This is done with wry - and readable - verve.Great stuff!
Review by RowingRabbit
16/06/2015
This is the first in a new series (the Gower Street Detective) featuring personal detective Sidney Grice &amp; his ward, 21 year old March Middleton. After the death of her father, an army doctor, March has little choice but to accept his offer to come stay with him in London.<br/>Her mother died young &amp; March spent her childhood following her father in his travels, assisting with medical care on the battlefields. This unconventional upbringing has turned March into an intelligent, "modern" woman who is quietly rebellious with a penchant for sneaking cigarettes &amp; sips of gin. She's all too aware of the glass ceiling for women in 19th century England but is initially overwhelmed by the hustle, smell &amp; grinding poverty of Victorian London.<br/>And by Grice. Where to begin....odd, eccentric, socially inept, fastidious, clever, brutally blunt, condescending, vegetarian, addicted to tea....they all apply. He's also rather small with a deformed leg &amp; a glass eye that tends to fall out when he's upset. He has become the preeminent detective in the city, famous for cases he's solved. (At some point, all readers will draw the inevitable comparisons to Holmes &amp; the author doesn't shy away from this, adding a cheeky passage between March &amp; Dr. Conan Doyle where he muses about writing a book using her guardian as inspiration for a clever, crime solving character.)<br/>As March tries to get her bearings, a woman comes to Grice pleading for his help. Her son-in-law has been arrested for the horrific murder of her daughter but she believes him innocent. She has no money....will he take the case? Absolutely not. Grice doesn't believe in pro bono work but March feels compassion &amp; offers to pay. Game on.<br/>What follows is a story that unfolds on two fronts. First, a convoluted murder mystery that finds Grice &amp; March traipsing through filthy back alleys &amp; dealing with unfortunate souls &amp; dead bodies as they hunt for clues. There are plenty of red herrings &amp; the author does a good job of slowly doling out information that changes the trajectory of the case. Even though I figured out who the "bad guy" was early on, I had no idea of the scope of their crimes or motivation 'til all was revealed in the final few pages. They'd end up paying for their sins but in an unconventional way.<br/>Second, it's also the story of our two main protagonists as the ground work for their relationship is developed. March is no spineless, swooning woman, thank God. Her intelligence &amp; progressive beliefs frequently ruffle the feathers of the conservative Grice, a man who is very comfortable with the status quo where women play a decidedly lesser role. Their continuous verbal sparring provides moments of comic relief as well as comments about women that while true to the period, will no doubt have some readers grinding their teeth.<br/>We are also given hints about March's past in passages form her diary &amp; the mysterious letters she keeps hidden away. There was a fiance, a great love who has died &amp; we know March feels grief &amp; remorse but we never learn why. Perhaps in book #2?<br/>London is portrayed as a glittering city with a dark side. The ruthless class system keeps everyone in their proper place: the haves in their stately homes, the have nots in their dank, smelly rooming houses &amp; abandoned buildings swimming in rats &amp; sewage.<br/>There are colourful peripheral characters that flit in &amp; out of the investigation, notably Inspector Pound from the police service. He doesn't exactly like Grice but is in awe of his abilities &amp; gradually develops a grudging respect for March ("It is a pity you are so poor &amp; plain. And a shame you have such intelligence &amp; spirit, Miss Middleton. You might otherwise make a man an acceptable spouse"). High praise indeed. Their encounters hint at a possible future romance if he can let go of some of his stuffy notions.<br/>All in all, an entertaining &amp; atmospheric Victorian detective story. The murder investigations will keep you turning the pages but it's the characters who will have you waiting impatiently for the next book.
Review by Olivermagnus
27/01/2016
This is a very original and engaging take of the Victorian era "detective and his able assistant" style of mystery. Meet Sidney Grice, London's most famous personal detective. He's a very quick witted man but he's also fussy, rude, arrogant, greedy and never does anything that won't benefit him. His ward, March Middleton, has recently lost her father and moved to London to live with Grice. She is a rebel who smokes, drinks, and would like to prove to Grice that women can be more than second class citizens. <br/><br/>The day March arrives, Sidney gets a visit from Grace Dillinger whose daughter Sarah has been killed and son-in-law, John Ashby, arrested. When Grice refuses to take the case without payment, March volunteers to pay for the investigation out of her trust fund, with the caveat that she is able to participate. Grice believes Ashby is guilty and even helps prove how he did it. Shortly after the hanging, evidence comes to light that Ashby may have been innocent. Grice is confident he helped convict the right man and March believes he made a terrible mistake. Using his vast knowledge of all crimes committed in the area, Sidney and March begin another investigation. Soon there are more bodies and more possible candidates to be the murderer. <br/><br/>I thought the writing was witty and fresh with a very fast moving plot with a lot of twists and turns. Sidney and March are clever characters and it's fun to watch the constant power struggles and verbal interplay between them. There's an interesting back-story of March's past, as well as how Sidney knew her father that I hope will be explored as the series continues.<br/><br/>Great first book of a series. I will definitely check out the next one in mid 2014 – The Curse of the House of Foskett.
Also in the The Gower Street Detective Series series | View all