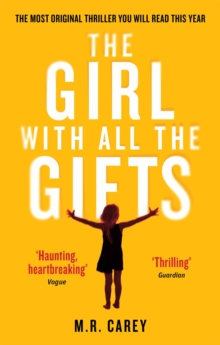 The Girl with All the Gifts
Paperback
Description
NOT EVERY GIFT IS A BLESSINGEvery morning, Melanie waits in her cell to be collected for class.When they come for her, Sergeant Parks keeps his gun pointing at her while two of his people strap her into the wheelchair.
She thinks they don't like her. She jokes that she won't bite. But they don't laugh.Melanie is a very special girl.
Emotionally charged and gripping from beginning to end, THE GIRL WITH ALL THE GIFTS is the most powerful and affecting thriller you will read this year.'Original, thrilling and powerful' - GUARDIAN'Haunting, heartbreaking' - VOGUE'A great read that takes hold of you and doesn't let go' - John Ajvide Lindqvist, author of LET THE RIGHT ONE IN*Look out for M.
R. Carey's stunning new thriller FELLSIDE, coming Jan 2016*
Information
Format: Paperback
Pages: 512 pages
Publisher: Little, Brown Book Group
Publication Date: 19/06/2014
Category: Fantasy
ISBN: 9780356500157
Other Formats
EPUB from £5.99
Paperback from £7.85
Free Home Delivery
on all orders
Pick up orders
from local bookshops
Reviews
Showing 1 - 5 of 33 reviews.
Previous | Next
Review by Amsa1959
16/06/2015
An intelligent horror novel with a moral dilemma.
Review by tenaciousreader
16/06/2015
I just loved this book. I don't want to say too much about the plot because I think it is better to go into this one knowing as little as possible. But as you can likely gather from the blurb, it starts by introducing the reader to Melanie. She is a young girl who is raised in a environment where kids are kept in individual cells. When it is time to go to class, three soldiers come into her cell. One to point the gun at her, two to restrain her to the wheelchair. That is just the way things are done. Melanie is an exceptionally bright child and loves to learn. She has a particular fondness for one her teachers, Miss Justineau.Seeing Melanie's bright and inquisitive nature within the stark, sterile conditions is quite a contrast. But, Melanie has never known any different, so to her, this is normal. We are introduced to a number of the adults in her life. The soldiers who strap her down and wheel her to class each day, and the the group of teachers that they alternate through day to day, the Doctor who works within the compound. They are all damaged people living in a damaged world. But they go on, as people must. And there is quite a diverse set of backgrounds and personalities.I absolutely love Melanie's character. She is so bright, yet so sheltered and she brings a unique (and sensible) view to situations. And since Melanie loves Miss Justineau, you know, I think I have to as well. Miss Justineau actually sees Melanie for the person she is, which in Melanie's world is quite meaningful. We also get to know Sarge, the soldier who points the gun at Melanie. I don't think there are any simple characters in this book and exploring them is part of what makes this book work.The horror elements of this book are extremely well done. There is tension and suspense, and there is a psychological component that really just pull the reader in and keep you on edge. But I would not just classify this book as horror because there is also a strong science fiction bend to this story, beyond just the dystopian setting. The science aspect of it was fascinating and added plausibility to the environment they live in (even if ultimately it is fiction).If I haven't convinced you this book is worth reading, I don't know what else to say (other than READ THIS!). It also has an absolutely amazing ending. I love when I adore an ending to a book, and this one was as near to perfect as I think you can hope for (at least for me). So go on, get this in your reading queue!
Review by Jami_Leigh
16/06/2015
Plot: 4 stars <br/>Characters: 4 stars <br/>Style: 4 stars <br/>Pace: 4 stars <br/><br/>Thanks to my lovely Owen's chatting with the Hachette rep at ALA, guess what showed up in an unbound proof copy in our mailbox today!? YEP! This. The time it took me to finish had more to do with the limited spots I have in my day to read printed out MSs (Ye gods, how did agents/editors not suffer lethal papercuts in the old days of paper slush piles?!) rather than the book itself.<br/><spoiler><br/>Lovely. A very thought-provoking zombie book, words I never thought would go together. So strange.<br/><br/>I have a bit of a book hangover now. Thanks. (No, seriously, thanks! First apocalypse I both wouldn't want to experience but yet wouldn't mind terribly. </spoiler>
Review by Glennis.LeBlanc
16/06/2015
I had read the short story by Carey in An Apple for the Creature that became the genesis of this novel. The world is taken over by hungries [another word for zombies]. This has been caused by a mutation in a fungus that takes over ants. Melanie is a child hungry but she is different from most of them. She and a handful of hungry children are being taught school and occasionally dissected to find a possible cure to the plague of hungries. The military base she is being kept at is overrun by hungries that have been stampeded by people that haven't been infected yet and refuse to live in the military bases. Four people manage to escape along with Melanie. They set out to try and find the main base and evade the hungries and the other non-infected people[junkers]. The trip is self discovery for Melanie as she finds out she isn't just a normal little girl. A few minor things bothered me in the story but they really didn't detract from the plot more of how do they still have cigarettes so many years after the collapse of society. Not that anyone was smoking them but they kept getting mentioned as barter material. <br/><br/>Digital review copy provided by the publisher through Edelweiss
Review by AHS-Wolfy
16/06/2015
Melanie's world is very small. She has the cell in which she lives, there's the corridor which houses the other cells of her fellow pupils, the shower room where they get doused with chemicals once a week and her favourite place - the classroom. Melanie knows there's a bigger world on the other side of the door at the end of the corridor but she can't see outside when it's open and none of her classmates have returned to say what's there after being taken through it. Every day, except Saturday and Sunday, Melanie gets strapped into her chair, muzzled and wheeled in to her classroom hoping that Miss Justineau is the one giving the lessons today. Then a day arrives where it's Melanie's turn to go through the door at the end of the corridor. Will she like what she encounters?Melanie lives on a research facility within an army camp protected by soldiers and high fences from the outside world. But things are about to change when the camp is overrun and Melanie escapes with four others: Miss Justineau, Dr. Caldwell (head of research), Sgt. Parks (base commander) and Gallacher (a young soldier). And so begins a road trip. They've decided to head to Beacon, last bastion of civilisation in England, but it's through untamed country and they'll need to steer clear of the hungries and any survivalist groups that are out there. Will they make it and can Dr. Caldwell discover the cure for the disease that's infected the majority of the population?This is a thrilling post-apocalyptic tale with a tinge of horror told, mostly, from a unique perspective. The original tale started out as a short story written for a themed anthology and after completing it wouldn't leave the author alone. So it was expanded into novel form and as it differs from the authors other books was released under a variant spelling of his name This snippet of information was picked up from an interview with Mike Carey (for it is he, author of the Felix Castor books and writer of the Lucifer and Hellblazer comics) which is available at the end of this book. It also mentions that he simultaneously wrote a screenplay so that will be something to keep an eye out for. A lot will depend on the casting of the central character though. Melanie is a fantastic creation and as she drives the narrative then that's essential but the others around her a little more clichéd but not to the point of spoiling the story as they do evolve along the way. This book has a lot going for it as it fits in with a currently popular sub-genre, is written by an author of which I've enjoyed the other books I've read and has been garnering a lot of favourable reviews so far. I'm happy to report that it doesn't disappoint.