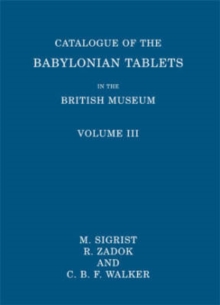 Catalogue of the Babylonian Tablets in the British Museum : Volume III
Hardback
Description
This catalogue is the third in a series publishing the whole collection of Babylonian and Sumerian tablets in the British Museum.
In this volume over 7,000 tablets acquired in the years 1898-9 are described.
They include Sumerian tablets from the administrative archives of the district of Lagash of the time of the Third Dynasty of Ur, Old Babylonian tablets from the cities of Kisurra, Larsa, Sippar and Uruk, and tablets of the Neo-Babylonian and Achaemenid periods from Babylon and Borsippa. There is also a small number of literary and historical texts.
Information
Format: Hardback
Pages: 352 pages
Publisher: British Museum Press
Publication Date: 15/01/2006
ISBN: 9780714111605