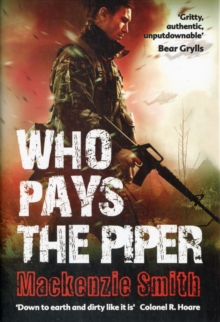 Who Pays the Piper
Hardback
Description
Who Pays the Piper is a terrifically enjoyable SAS thriller.
It takes as its starting point Operation Barras, the famous raid in 2000 by the SAS to liberate a group of Irish Rangers captured by a militia group known as the West Side Boys.
The raid has been the subject of two non-fiction books and a TV documentary.
What none of those dared mention is that while the raid was officially a great success, there was a crucial period at the height of the raid when a number of the SAS, completely against orders, risked the entire mission to go off in search of the huge stash of blood diamonds that the leader of the West Side Boys, Foday Kallay was supposed to have hidden somewhere in the village. This is where the novel departs from the facts. Christi McKie is wounded and left behind to be captured by the remnants of the West Side Boys who sell him on to Al Qaeda; he must go through hell before he can escape and wreak a terrible revenge on the colleague who left him for dead.
This is first rate boys adventure, chock full of great action scenes, strong characters and fantastic moments of insider knowledge: the whole novel is shot through with a compelling sense of authenticity.
Information
Format: Hardback
Pages: 364 pages
Publisher: Quartet Books
Publication Date: 01/09/2011
Category: War & combat fiction
ISBN: 9780704372313
Other Formats
Paperback / softback from £10.79
EPUB from £3.99
Also by Mackenzie Smith