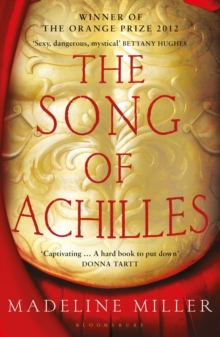 The Song of Achilles
Paperback
Description
Greece in the age of heroes. Patroclus, an awkward young prince, has been exiled to the court of King Peleus and his perfect son Achilles.
Despite their differences, Achilles befriends the shamed prince, and as they grow into young men skilled in the arts of war and medicine, their bond blossoms into something deeper - despite the displeasure of Achilles's mother Thetis, a cruel sea goddess.
But when word comes that Helen of Sparta has been kidnapped, Achilles must go to war in distant Troy and fulfill his destiny.
Torn between love and fear for his friend, Patroclus goes with him, little knowing that the years that follow will test everything they hold dear.
Information
Format: Paperback
Pages: 368 pages
Publisher: Bloomsbury Publishing PLC
Publication Date: 01/04/2012
Category: Myth & legend told as fiction
ISBN: 9781408821985
Other Formats
Paperback from £7.69
EPUB from £6.39
Free Home Delivery
on all orders
Pick up orders
from local bookshops
Reviews
Showing 1 - 5 of 17 reviews.
Previous | Next
Review by KatPruce
16/06/2015
Now, I've never been a big fan of The Iliad...I didn't dislike it, but it never remained all that memorable for me. It was simply a story to be read for class and then *poof!* I forgot about it. Then I saw this Orange Prize Shortlisted novel and thought that I should give this tale another go. You guys, never again will this story or these characters be a hazy memory - The Song of Achilles forever cured me of that! Let me list the reasons why Madeline Miller's book is the best I've read so far in 2012: extremely well written character-driven but still a page-turner this book gives readers a greater understanding of the motivations behind the mythological events An emotional rollercoaster: I know this is gonna make me sound like a wet blanket...but I cried several times throughout reading the book. achingly honest and beautifully rendered romance The Song of Achilles makes me want to read some more mythology-based literature (anyone have any recommendations??)Recommended to everyone!!! Seriously, go read this now.
Review by WoodsieGirl
16/06/2015
Madeline Miller obviously knows the source material incredibly well: she has studied and taught both ancient Greek and Latin, and has past experience of adapting classical tales for a modern audience for the theatre, although this is her first novel. Her background, and her obvious knowledge of and love for the stories and characters of ancient Greece shines through the book. I have read the Iliad (although it was some years ago), and I was impressed by Miller's mastery of the language, the lyricism and storytelling style of Homer's epic. Her portrayal of the characters was also spot on: although she puts her own spin on them, they are recognisably the same people (and gods, etc!) that populate the Iliad.Song of Achilles is first and foremost a love story, and a beautiful, heartbreaking one at that. I read a rather sniffy review in the Telegraph, which described it as "not a bodice-ripping, so let's call it a breastplate-ripping romp… like homoerotic slash fiction". This is deeply unfair, and made me wonder whether the reviewer had actually read the book. Yes, it's a love story between two men; and yes, it is very sensual. It's not explicit in any way though: the few sex scenes are actually very coyly described, which I thought was in keeping with Patroclus' personality. To dismiss it as slash fiction completely misses the point.One of the things I loved most about this book – and that gave me that odd sensation of wanting to keep reading because I couldn't put it down, but at the same time not really wanting to reach the end – is the sense of crushing inevitability about it. If you know the story then you know it doesn't end well for these two – but Patroclus as narrator is of course unaware of what lies ahead. It's a wonderfully effective use of dramatic irony, and added another layer of gut wrenching pathos to the whole book.I think this is one of my favourite books of the year so far. It was one of those reads that made me feel slightly resentful of any time spent doing other things than reading it. Just wonderful.
Review by catfantastic
16/06/2015
A beautiful new retelling of the Trojan War, from the point of view of Patroclus, Achilles' closest friend and lover. This is the story of their romantic relationship, and it is also the story of Patroclus watching Achilles become the hero of the Greeks. The gods are real in Miller's version, and she weaves them into the story seamlessly and with startling realism. Miller's prose is fluid and beautiful. The last chapters haunted me for days afterwards. She breathes new life into gods, mortals and heroes. I don't think the Trojan War has ever felt so fresh and exciting to me as it did reading <i>Song of Achilles</i>. A perfect novel, and the best book I have read in a long time. Highly recommended.  
Review by eenerd
16/06/2015
Beautifully told tale of Achilles and the Trojan War, told from the point of view of his lover and closest friend, Patroclus the exile. Lush imagery, vivid characters and lyrical dialogue make this such a delicious read. The tender, sensuous relationship behind the scenes contrasts starkly with the bloody viciousness of the war, adding another layer of complexity to delight and enthrall. You'll want to keep an eye out for more work by Madeline Miller, what a great talent.
Review by Kassilem
16/06/2015
I've been reading Homer in my Literature class for the last month and it has caused my interest in mythology to come streaking back. I can't remember where or how I found this book but I am glad I did. It's never said specifically in Homer that Achilles and Patroclus were lovers but there are plenty times where it can be interpreted as such. I have always preferred that interpretation so the idea of the war as seen by Patroclus was very appealing. I have never read anything from his perspective before and was hoping for a good retelling of the myth. It was. Because most everyone knows the Trojan War myth it is sometimes hard to retell it and keep the audience engaged. I found that even though I had read expects of Homer's epic just a few weeks ago, Miller's retelling kept me just as engaged. The way she tells the myth, the language and the perspective she uses, were all new. I really enjoyed the book. It has certainly increased my interest in the epic myths. I am now trying to find as many as I can, retelling and translations both. If you like Greek history/mythology at all I highly recommend this book.
Also by Madeline Miller