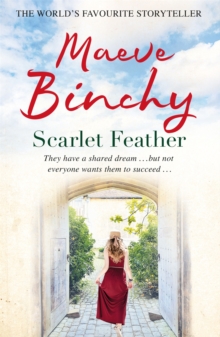 Scarlet Feather
Paperback
Description
Drama, humour, warmth and wonderful characters...vintage Binchy - the No. 1 bestselling author of MINDING FRANKIE.Cathy Scarlet and Tom Feather have decided to create the best catering company in Dublin.
They have the perfect premises, heaps of talent and even a few contacts, but not everyone seems as pleased by the idea of 'Scarlet Feather' as they are.
Tom's parents are disappointed that he has turned his back on the family business.
Cathy's husband buries himself in work, becoming ever more distant, while his mother thinks Cathy should stay at home to look after him. And Tom's relationship with his beautiful, ambitious girlfriend becomes fraught as she struggles to realise her dream of becoming a model. As Cathy and Tom strive to maintain their emotional ties among catering triumphs and disasters, they are supported, and undermined, by an enchanting cast of classic Binchy characters.
Information
Format: Paperback
Pages: 608 pages
Publisher: Orion Publishing Co
Publication Date: 01/04/2001
ISBN: 9780752876856
Free Home Delivery
on all orders
Pick up orders
from local bookshops
Reviews
Showing 1 - 1 of 1 reviews.
Review by marialondon
16/06/2015
After finishing "Tara Road", I started "Scarlet Feather"--& both these books I read a couple of years after reading earlier (much better, as I see it) Maeve Binchy books- such as "Circle of friends", "Glass lake", "Evening class" etc. The difference between earlier & later Binchy books is enormous. I believe the earlier books started out much more naturally, & the "formula" that everyone talks about, Binchy's usual multiple-character-formula probably was an original, creative device then. Later on, with "Tara Road" & now (even more) with "Scarlet Feather", Binchy's formula seems much more like an old & tired plot device, more like a gimmick than anything else.The Binchy formula is ever present here: Lots of characters. 2 central characters (Cathy & Tom) who are trying to set up their own catering business in Dublin. A huge (TOO huge) cast of supporting characters. A couple of people who are the obvious villains in the story (but they're so predictably...villainous that it all gets very boring very soon). Hints at side-stories that, at some point, get explained. I could go on & on, since lately Binchy's novels seem to be a mixing up of the same elements, again & again.What I didn't like, specifically, isa) the predictability of the storyb) the fact that several lose ends were left there, hanging open. For example, the Amanda-story, the Shona story, the actual early relationship between Cathy & Neil, the relationship between Cathy & her mother-in-law etc etc. There are too many to mention. Interesting little pieces of stories that never get developed, & we're left with questions.c) the holier-than-thou attitude of Cathy. She's TOO perfect for my own taste, a little humourless & she's got a chip on her shoulder all the time.What I did like were the delicious descriptions of food that the catering company produces! MMMMMMmm....Read "Scarlet feather" with low expectations, just as a book-to-read-by-the-beach, & mostly for the great food!