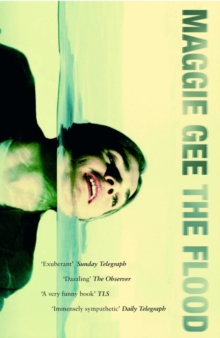 Description
President Bliss is handling a tricky situation with customary brio, but after months of ceaseless rain the city is sinking under the floods.
The rich are safe on high ground, but the poor are getting damper in their packed tower blocks, and the fanatical 'Last Days' sect is recruiting thousands ...When at last the sun breaks through the clouds Lottie heads off to the opera, husband Harold listens to jazz and their ditsy teenage daughter Lola fights capitalism by bunking off school.
Shirley takes her twin boys to the zoo. The Government - eager to detract attention from a foreign war it has waged - announces a spectacular City Gala.
But not even TV astrologer Davey Lucas can predict the extraordinary climax that ensues.
Information
Format: Paperback
Pages: 328 pages
Publisher: Saqi Books
Publication Date: 01/02/2005
ISBN: 9780863565120
Free Home Delivery
on all orders
Pick up orders
from local bookshops
Reviews
Showing 1 - 1 of 1 reviews.
Review by wandering_star
16/06/2015
The time: more-or-less now. The place: a city which is more-or-less London - there is a President, not a Prime Minister, but he is prosecuting a war against a Muslim country in alliance with the President of more-or-less America (rather pointlessly disguised as 'Hesperica'). It's been raining for weeks and weeks, and almost without the residents realising it, floodwaters are creeping over more and more of the city. There is a huge cast of characters, from wealthy Lottie luxuriating in her comfortable life, to elderly May looking after her grandchildren and missing her dead husband, from ex-convict and apocalyptic cult member Dirk to self-centered novelist Angela and her neglected daughter Gerda. They are all affected, in different ways, by the flood, by rumours of strange planetary line-ups, and by the city's preparation for a grand Gala, more-or-less a great celebration of capitalism. But we soon realise that they are also deeply interconnected in a multitude of ways, and to me the rising waters seemed to symbolize social atomisation, which has crept up on us without our really noticing, as well as everything that goes with atomisation, such as lack of connection and community, prejudice, and inequality.I don't normally much like 'state of Britain'-type novels, and indeed after fifty pages I was ready to put this book aside. But for some reason I decided to give it another go, and I started to enjoy it very much. I think, in particular, it's because we see enough of the inner lives of our characters that they are not simply stereotypes or representatives of a particular social category, and they come together in unexpected ways. This makes it more subtle than other novels with a similar range, and yet it can still make its points effectively.