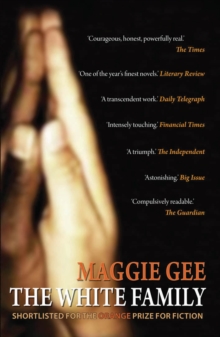 The White Family
Paperback
Description
Alfred White, a London park-keeper, rules his home with a mixture of ferocity and tenderness that has estranged his three children.
But family ties are strong, and when Alfred collapses on duty one day, they rush to be with him.
His daughter's partner, Elroy, a black social-worker, is brought face to face with Alfred's younger son Dirk, who hates and fears all black people.
The scene is set for violence, and Alfred's wife May is forced to choose between justice and kinship.
This ground-breaking novel tackles the taboo subject of racial hatred, as it looks for the roots of violence within one British family.
Information
Format: Paperback
Pages: 345 pages
Publisher: Telegram Books
Publication Date: 04/01/2008
ISBN: 9781846590436
Free Home Delivery
on all orders
Pick up orders
from local bookshops
Reviews
Showing 1 - 4 of 4 reviews.
Review by kidzdoc
16/06/2015
Alfred White is nearing the end of his 50 year career as a park keeper in a fictional London neighborhood in which he has lived for his entire life. He and his wife May have three children: Darren, a famed but restless journalist with a quick temper; Shirley, who has irked her parents by marrying a black African and dating a black Briton of Jamaican descent after her husband's death; and Dirk, the youngest sibling, whose small size and smaller ambitions mark him as a failure compared to his brother.The neighborhood, once populated by white working class Britons, has now become home to immigrants from Africa, Asia, the Caribbean and other parts of Europe. Alfred loathes these newcomers, even the noisy yellow "foreign" birds that have taken over the park, as they are not truly British, but he generally keeps his emotions and feelings in check. However Dirk, who worships his father and fully embraces his beliefs, views all nonwhites as threats, blames them for his personal failures, and hates them with a seething fury.The White family is thrown into crisis when Alfred collapses while on duty. The family rallies around his sickbed, but deep wounds that have festered for years are brought into the open, which creates almost unbearable stress within each member. Dirk is the most deeply affected of all, as his grief over his father's illness is compounded by the realization that none of the rest of his family understands or cares about him. Fueled by rage, fear and hopelessness, he seeks to exact revenge on those whom he hates the most, the 'coloureds' that have made his life a living hell.<i>The White Family</i> is a spectacular novel about a white working class family in a multicultural London that no longer seems to accept or appreciate them. The characters are richly portrayed, and this reader felt sympathy for even the most dislikable characters. I could hardly put this book down after the first 50 pages, and I won't soon forget these characters or Gee's wonderful narrative. Other than a slightly disappointing last few pages this book was nearly perfect, and this is easily one of my favorite novels of the year.
Review by phebj
16/06/2015
For the life of me, I can't figure out why this book isn't better known. It was shortlisted for the Orange Prize in 2002 but I just heard about it from another LTer (kidzdoc) two months ago. With the exception of not knowing what to think of the ending, this was an excellent book.The White Family is comprised of Alfred and May and their three grown children. Alfred has been a Park Keeper in London for decades and, at the beginning of the book, collapses on the job following a tense encounter with a young black family he believes are breaking park rules. As his family gathers at Alfred's side in the hospital, they each tell their stories along with several family friends and a picture begins to emerge of what life is like for the Whites. While there is real affection between Alfred and May, their kids are mostly alienated from them and Alfred emerges as a bully and a racist. Even worse, his youngest son, Dirk, has embraced these traits with a vengence.The true genius of this book was the author's ability to make the reader sympathetic to Alfred and Dirk. Alfred doesn't get to explain himself right away so your initial impression of him is shaped by the mixed feelings his wife and children have of him. I was surprised to like him more than I thought when he finally gets to tell his own story. Dirk, on the other hand, is introduced in the beginning and it seemed like a roller coaster ride being in his presence. I was alternately repulsed by his violent nature and overpowered by the amount of emotional pain he suffered.I was totally engaged by this book from the beginning and so the end was a disappointment to me. I felt like I was being ripped out of the characters' lives and out of the story and the way everything was wrapped up felt wrong. Despite this, I still really care about these characters and want to know what happened to them so, although I'm deducting a ½ star for the ending, I would still highly recommend the book.This book would make a great choice for a book club discussion. The main themes are racism, domestic violence and cultural diversity but homophobia, sibling rivalry and the social and economic changes in Britain in the last 60 years are also addressed. Reading and writing also play a role in the story and the following quote of James Baldwin is important to one of the characters: "Books taught me that the things that tormented me the most were the very things that connected me to everyone who was alive and who had ever been alive." Ironically, it's the white racist that I felt connected to in this book.4 ½ stars and one of my favorite books for 2010.
Review by brenzi
16/06/2015
Alfred White, a man who has ruled his family with an iron fist, has been Albion Park's park keeper for almost fifty years. During that time he has witnessed many changes in the neighborhood, but none scares him as much as the influx of foreigners and blacks. One day while on duty he suffers "an event' and is admitted to the hospital. His stay brings his family to his bedside. They include May, his seemingly passive wife and mother who actually undermines Alfred's brutish ways; oldest son and golden child, Darren, a journalist, flown in from the U.S. with his third wife; daughter Shirley, who has disappointed her father not once, but twice, first by marrying a black man and then, when she was widowed, by taking up with another black man; and youngest son Dirk, a skinhead, with a dead end job in a news shop, who seems to have inherited his father's bigoted ways and carried them to an even further extreme.I would not describe this as a "normal family," but, unfortunately, a common family structure in the 20th century. Alfred's manner of toughness and hatred in the way of bringing up his children leaves them with a void that is almost impossible to broach. Bringing together Shirley and her younger brother Dirk created a powder keg, sure to ignite. Darren's psychologist wife wants him to "have it out" with his father, but when he finally does, his explosive temper prevents any good from coming from it. And finally, there is an incident that will change the family forever. Alfred, in the end, allows his sense of duty overcome his sense of family in order to do the right thing.Maggie Gee has written an important novel, exposing the violence and hatred commonly found in cities all over the world where multi-cultural changes take place and the original inhabitants can't acclimate themselves to the new "now." I can't say I actually found the characters of Alfred, Darren and Dirk likable, but I could certainly sympathize with them. And I was pleased in the end that Alfred did the right thing. Shirley was important as a character who bridged the gap between black and white.I also liked the way Gee had a way of nostalgically looking back at the past, which were such happy times for May and Alfred, such as when May realized that her neighborhood was in decline:"Almost trotting down the street, her blue coat clutched around her, she saw that more than half the shops were boarded up, or had their fronts covered with aluminum shutters, which rattled coldly in the winter winds. 'To Let', the boards said, hopefully, but no one new came except charity shops, and they already had three, full of wrong-coloured garments. So the boards got battered, and looked grimy, guilty, each one a confession of failure and emptiness. It was over, Hillesden Rise was over, over, and May found tears welling up again, and realized she was crying for herself and Alfred and the silly young couple they had once been." (Page 100)This book is not for the squeamish as it is a frank, honest, no holds barred look at racism and in telling her story, Gee uses vernacular that would be common to the streets of London. Nonetheless this is a book I found hard to put down and would highly recommend it.
Review by JanetinLondon
16/06/2015
This is the story of an "ordinary" white working class family in northwest London in the second half of the 20th Century, and of the changes in their world during that period. As the book opens, Alfred, the father, has just suffered some sort of "event" – stroke, heart attack, not made clear at first – in the park where he has been park keeper for 50 years. This crisis prompts him and the rest of the family – wife May and three grown children – to reflect on their lives and to revisit memories. They never do this together, but separately, internally, in different chapters. In fact, they hardly ever speak to each other at all. Gradually, we learn a lot about each of them, the events that have shaped their lives and the ways in which they have responded.Alfred is an archetype – war veteran, hard working, loyal, uncomplaining, but also racist, homophobic, ultimately frustrated by his small life and unable to cope with change and difference. He sees himself as a "good" father and husband, but it is clear he has damaged and abused all his family members, both mentally and physically.May, his wife, is also a "type" – married the first man who ever kissed her, kept the home, took care of the children, never interfered with Alfred's approach to "discipline", put up with a certain amount of abuse because, well, he worked so hard, didn't he? She has, however, read a lot, and the indications are that she "could have made more of herself" if circumstances had permitted.The three children are less "typical" (perhaps Gee thinks the next generation <i>is</i> less likely to be typical) but also, I thought, less realistic, and therefore less interesting. Each has responded to their restricted, bullied upbringing in different ways, none has really found happiness or fulfilment.Most of the book is spent learning about these characters, plus a few friends and neighbors, as well as describing the park where Alfred works, a metaphor for London and the world. This was all great, and I waited eagerly to see how it would play out. Unfortunately, there's a whole second story line to do with racism, ultimately leading to violence, which winds up providing the climax and denouement of the book, and which I didn't like at all. For a start, these sections were less well written and less involving. Also, although they included most of the same characters, I thought the link was forced – yes, Alfred was a racist (never a violent one), yes, that lead to certain reactions by his children, ultimately leading to the main violent event, and yes, Alfred's and May's reactions to this are very interesting. But it was a separate story to the one of Alfred and May, their lives after the war and their difficulties with change. To keep the two in one book, the book needed to be longer, to give the second story more time to develop. So, although there was some great writing in there, and some interesting insights, ultimately I was a bit disappointed.