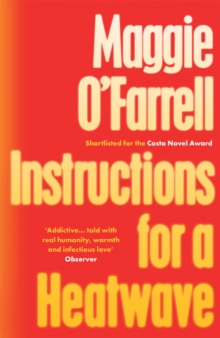 Instructions for a Heatwave
Paperback
Description
A story of a dysfunctional but deeply loveable family reunited, INSTRUCTIONS FOR A HEATWAVE by Maggie O'Farrell already feels like a contemporary classic. It was shortlisted for the 2013 Costa Novel Award and was a Sunday Times Top Ten bestseller.It's July 1976.
In London, it hasn't rained for months, gardens are filled with aphids, water comes from a standpipe, and Robert Riordan tells his wife Gretta that he's going round the corner to buy a newspaper.
He doesn't come back. The search for Robert brings Gretta's children - two estranged sisters and a brother on the brink of divorce - back home, each with different ideas as to where their father might have gone.
None of them suspects that their mother might have an explanation that even now she cannot share.
Information
Format: Paperback
Pages: 352 pages
Publisher: Headline Publishing Group
Publication Date: 29/08/2013
ISBN: 9780755358793
Free Home Delivery
on all orders
Pick up orders
from local bookshops
Reviews
Showing 1 - 5 of 5 reviews.
Review by julia.flyte
16/06/2015
Recently I heard Kate Atkinson speak at a writer's festival. I am an only child, as is she, and she said something that struck a chord with me. She talked about how she is fascinated by families and the dynamics between siblings. It seems to her that families are a safe place where you can behave worse than you would in any other facet of your life and somehow it is permissible and you will (eventually) be forgiven. When the sibling dynamic is something that you yourself have not experienced, it is endlessly puzzling and fascinating.I don't know if Maggie O'Farrell is an only child (her biography does not disclose this information), but one of the things that I love about her as a writer is the way she explores families and the complicated relationship between siblings (look no further than The Vanishing Act of Esme Lennox. This is another book about family dynamics, with the plot playing almost a secondary role to the relationships between the siblings and their parents.It's set in England in 1976. Robert Riordan tells his wife Gretta that he's going out to buy a newspaper and doesn't come back. The three children return home to support their mother and assist with the search. Michael Francis comes from across town, Monica comes up from London and Aoife (pronounced EE-fah) flies home from New York where she has been living for 8 years. All of the children are dealing with their own issues: marriage problems, long held grudges, tightly held secrets. And Gretta is also nursing her own secrets. Maggie O'Farrell is such a wonderful writer and the characters really come to life.In the afterword, the author explains that she used the setting of the 1976 heatwave because she thinks that aberrant weather brings out erratic behaviour. I am not sure whether this was entirely effective although there is a heightened sense of unreality in Gretta's responses to the situation and maybe the weather was a factor in this. O'Farrell also has a slightly irritating habit of not entirely wrapping her endings up. The reader is left to intuit or guess exactly how things panned out. I didn't particularly mind this, but I can see that some people might find that irritating.I loved this book. I got wrapped up in the characters and I felt that I got to know them all.
Review by AdonisGuilfoyle
16/06/2015
There are a lot of ways in which this novel is a candidate for the 'Did Not Finish' pile - too slow, too many alternating points of view/flashbacks - but also a host of reasons to persevere, namely the characters. The story itself, set during the long, hot summer of 1976, wanders all over the place before finishing on a rather inconclusive note, but the Riordan family are so wonderfully fleshed out (if a little 'quirky') that I stayed for the company.'Mammy' Riordan, or Gretta, finds her life thrown into chaos one morning when recently retired husband Robert suddenly walks out of the house and disappears. Her three children, Michael Francis, Monica and Aoife (I really struggled with that name!), abandon their respective lives to come home and form a disunited front while searching for their father. Cue three extended chapters full of marital discord and buried secrets while slowing getting to the truth of where and why Robert has gone - if that is ever successfully established!I don't know, the narrative shouldn't work - and doesn't for a lot of people, judging by a lot of reviews - yet Maggie O'Farrell's writing is so layered and almost cluttered with detail and poignant observation that I found myself lost in the meandering story. Gretta reminds me of my grandmother in a lot of ways, both good and bad, and Aoife's (Ee-fa's) own longstanding struggle was so unexpected for the time and place of the novel that I kept wondering when she would be 'found out'. And I could almost feel the suffocating effects of the heatwave, even in coldest November!Recommended for those who read for the characters and the atmosphere, rather than the hectic pace of the plot!
Review by DubaiReader
16/06/2015
Atmospheric.Maggie O'Farrell is an excellent writer, and her latest novel is another hit. Set in the long, oppressively hot summer of 1976, the atmosphere of cloying heat was almost another character in the book.It was against this backdrop that elderly, forgetful Robert goes out to get his morning newspaper, as usual, but fails to return. His wife, Gretta, is devastated, she has no idea where he has gone, and calls her three children around her for support.This impromptu family reunion has stresses and hidden secrets of its own and forms the backbone of the book.Gretta's eldest son, known by both his names, as Michael Francis, teaches history, although he had higher aspirations as a student. His wife Claire has decided it is time she went back to university and has started studying history through the Open University. Monica is in her second marriage, with Peter, whose wife and children live close by, making her life uncomfortable. Aoife has to travel over to Ireland from The United States, her first trip back for several years. She leaves behind a fairly new relationship, one that she has great hopes for. Her childhood was riddled with problems caused by severe reading disabilities and she hides her inability to read behind an excellent memory. She works in a bar by night and as a photographer's assistant by day.I listened to this from Audible, expertly narrated by Dearbhla Molloy, whose Irish accent definitely added to my enjoyment. The complex characters and gradual unravelling of the tale kept me hooked as I carried my Kindle around the house. I remember that long hot summer, though as a child, it didn't seem quite so oppressive; it formed the perfect setting for Robert's mysterious disappearance and the family interactions that resulted.
Review by jayne_charles
16/06/2015
This is great character-based fiction, at its centre a family whose members are all experiencing some sort of turmoil in their personal lives, some at war with each other. It is 1976, and during the memorable heatwave, father goes missing and the rest of the family is forced to come together and sort out their differences.I couldn't initially see the point of setting it in 1976 and kept forgetting it wasn't happening in the present day. Reading it, I experienced a series of jolts. Someone pinches a book from the library. Why don't all the alarms go off? Oh yes...it's 1976. Seven people fit into a standard family car – a four year old sits on someone's knee and her slightly older brother is left to 'bump around' on top of the luggage in the boot. Someone arrest these people! Oh hang on....it's 1976. And why is that child never wearing any clothes? Oh. Right. It's 1976. It's very hot.Only when I read the author's afterword did I understand the point of the heatwave thing, and it all made sense. Because of course people do daft things in the middle of a heatwave. That afterword was a great piece of writing – the author hits the nail on the head about the way the summer of '76 looms large in childhood memories, particularly for those people (and I consider myself lucky to be among that number) who were small children at the time, the way it made the seventies seem like one long summer day.But back with the story – I wanted it to be longer. It ends earlier than the reader expects or wants – and the family members' individual stories were so compelling that I wanted to hear more about them. There was a slight feeling of disappointment as the novel trundled towards its final stages and it was clear that some of the sub-plots would not be revisited. I applaud the author's lightness of touch, however, not to mention her great skill at sketching compelling characters. I will definitely have to check out some of her other books.
Review by tina1969
16/06/2015
Summer, 1976 Robert Riordon tells his wife Gretta that hes going for a newspaper. He doesn't come back. Along come the three siblings, Michael Francis, Monica and Aoife to help find their dad.Firstly the story is set in 1976, when we had that heatwave thst went on and on. I was 7 years old and can vaguely remember it. The story really has nothing to do with the weather and the heatwave and could have been set against a heavy snowfall with freezing temperatures and still had been the same story.The book had some interesting characters in the three siblings. Each of them going through a crisis of their own as well as having a missing dad to deal with and the big family secret which is revealed. I didn't think thst I would enjoy this book but it turned out better than what I thought it would. I really enjoyed thd banter between the siblings and some of it was very dry, down yo earth and made me smile. The story I did think took a bit of a lull in places but quickly picked up again. There is the element of wanting to know whst was going to happen with each character and where Robert had got to.The ending is left to the readers to decide what will happen and this sometimes can be frustrating. I would say that this book is not for everyone but is a quirky read about a very dysfunctional family who the reader will eithet love or hate. Me personally am going to miss them