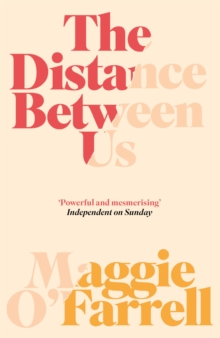 The Distance Between Us
Paperback
Description
Gripping, insightful and deft, THE DISTANCE BETWEEN US by Maggie O'Farrell is a haunting story of the way our families shape our lives, from the award-winning author of THIS MUST BE THE PLACE.
It was a Sunday Times Top Ten bestseller and won the Somerset Maugham Award.On a cold February afternoon, Stella catches sight of a man she hasn't seen for many years, but instantly recognises. Or thinks she does. At the same moment on the other side of the globe, in the middle of a crowd of Chinese New Year revellers, Jake realises that things are becoming dangerous.They know nothing of one another's existence, but both Stella and Jake flee their lives: Jake in search of a place so remote it doesn't appear on any map, and Stella for a destination in Scotland, the significance of which only her sister, Nina, will understand.
Information
Format: Paperback
Pages: 384 pages
Publisher: Headline Publishing Group
Publication Date: 31/01/2005
ISBN: 9780755302666
Free Home Delivery
on all orders
Pick up orders
from local bookshops
Reviews
Showing 1 - 5 of 5 reviews.
Review by michelle_bcf
16/06/2015
This is another great read from Maggie, which is similar in form to her first book, After You'd Gone. It's partly a love story, but mainly a story about family.. and sisters in particular.At the beginning of the book we are introduced to the main characters. Jake is living in Hong Kong, finding himself caught in crush on News Years Eve, and what happens after that brings him to England. Stella sees someone she thinks she recognises, which sparks some memory in her, and sends her running to Scotland.From here, we meet various other characters, including both families. Maggie also takes us to various time settings, exploring not only Stella and Jake's childhood, but their parents history too.These strands gradually start to wind together, as the story evolves.. history and present coming together, as Jake and Stella come together too.This kind of story telling could very easily be confusing, especially to someone like me, who gets lost very easily, and yet it doesn't. The developments of the past gradually add to the present story, until everything comes together.The characters are believable, and Maggie's writing is down to earth, whilst flowing well. I found myself wanting to keep reading, whilst not wanting it to end!
Review by readingwithtea
16/06/2015
Summary: Stella runs away from her life in London to work at a Scottish hotel. Jake survives a crowd crush in Hong Kong, finds himself in the wrong life in England, and goes in search of his father in Scotland. Stella's sister Nina has never coped well without Stella, and Stella's Italian-Scottish family isn't thrilled about her new life choices either…I loved this. The bond between the sisters was so strong and real, and O'Farrell seems to have the knack of coming up with seemingly insignificant anecdotes which touch on the core of what she's trying to convey – in this case, the protectiveness of a bigger (though younger) sister, teenage rebellion, different attitudes to life and love and yet that unswerving loyalty to one another.Like in The Hand That First Held Mine, we have Europeans living in Britain, learning to be bicultural, touches of another language thrown in haphazardly – which appeals to me so much because it's exactly what I have lived. According to Wikipedia, a stint working in Hong Kong (which she draws on in this novel) is O'Farrell's only "foreign" experience, so I wonder where she got this bilingual slant from. Anyway, I think it's fabulous.Also as in THTFHM, there was a sort of mystery to be solved, or an undisclosed event which was revealed towards the end and had a transformative effect on the characters' lives, but finding it out wasn't really the aim of the book, which was quite pleasant. The deed in question was pretty clearly signposted but I didn't think that detracted from it.The reason this doesn't get 10/10 is because the ending was a bit disappointing and twee – too neatly wrapped up. But I guess that's a matter of personal taste.
Thought I'd read it before, but couldn't remember the story from the back cover, just snippets - the Hong Kong crush and an Italian family in Scotland (and both of these remind me of other stories).I think "After you'd Gone" , by the same author is a much stronger story. Although both have similar family themes.
Review by ylferif
16/06/2015
Unsympathetic characters and irritating timeline jumping.
Review by bookczuk
16/06/2015
My previous venture into Maggie O'Farrell's writing left me less than satisfied with the story, but more than satisfied with the writing (barring some confusion at the end.) This story, however, was much easier to follow. Two stories entwined, about two rather lost souls (three if you count Nina). I think O'Farrell has a good grasp on how to write about wounded souls.