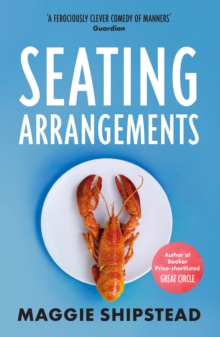 Seating Arrangements
Paperback
Description
A New York Times bestseller and winner of the 2012 Dylan Thomas Prize and 2012 L.A.
Times First Novel PrizeThe Van Meters have gathered at their family retreat on the New England island of Waskeke to celebrate the marriage of daughter Daphne to an impeccably appropriate young man.
The weekend is full of lobster and champagne, salt air and practiced bonhomie, but long-buried discontent and simmering lust seep through the cracks in the revelry.Winn Van Meter, father-of-the-bride, has spent his life following the rules of the east coast upper crust, but now, just shy of his sixtieth birthday, he must finally confront his failings, his desires, and his own humanity.
Information
Format: Paperback
Pages: 432 pages
Publisher: HarperCollins Publishers
Publication Date: 07/06/2013
ISBN: 9780007467730
Other Formats
EPUB from £7.49
eAudiobook MP3 from £10.39
Free Home Delivery
on all orders
Pick up orders
from local bookshops
Reviews
Showing 1 - 2 of 2 reviews.
Review by missizicks
16/06/2015
This book was recommended to me by a friend. I was searching for something light hearted. This book isn't quite a comedy, but it is more positive about life and people and the world than a lot of what I've read recently! We are with the Van Meters, at the wedding of their eldest daughter. The groom is a thoroughly decent Duff. We see the weekend unfold through the eyes of the Van Meters. Head of the family Winn is having a crisis. His wife Biddy is stoic. Youngest daughter Livia is an uncontained whirl of emotion. Set in the upper class community of the Eastern seaboard of America, we learn what it means to fit in, and what it costs to be yourself. The writing style has shades of Edith Wharton, shades of F Scott Fitzgerald, and the story has echoes of Virginia Woolf. Strong literary fiction worth reading.
Review by jayne_charles
16/06/2015
What a good read this was – rich in detail and characterisation, conveying a strong sense of physical location, as well as the class-conscious demographic among which it is set. The story covers just a couple of days in the lives of the Van Meter family, but with many flashbacks and a perceptive eye for the subtleties of social interaction, it paints a fascinating picture of a troubled family, and in particular its ageing patriarch, Win. He is in many ways a quite appalling character and yet his cringemaking attitudes and actions are explained by his past, and you can't hate him.It is such a wise book – its wisdom all the better for being understated, whether it is shining a light on the obsession with exclusive clubs and social climbing in a supposedly class-free nation, or just the business of life in general: ("....Dominique didn't know if she was strong or not. All she knew was that her best decisions had been the ones that brought her freedom, but talking about freedom with Biddy would be like explaining Africa to a giraffe that had been born in the Bronx Zoo."). Definitely an author to watch.