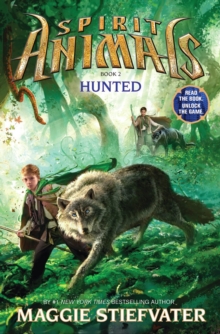 Description
Four children separated by vast distances all undergo the same ritual, watched by cloaked strangers.
Four flashes of light erupt, and from them emerge the unmistakable shapes of incredible beasts - a wolf, a leopard, a panda, a falcon.
Suddenly the paths of these children - and the world - have been changed for ever. Enter the world of Erdas, where every child who comes of age must discover if they have a spirit animal, a rare bond between human and beast that bestows great powers to both.
A dark force has risen from distant and long-forgotten lands, and has begun an onslaught that will ravage the world. Part engrossing book series, part action role-playing game - discover your spirit animal and join the adventure.
Information
Format: Hardback
Pages: 224 pages
Publisher: Scholastic US
Publication Date: 02/01/2014
Category: Fantasy
ISBN: 9780545522441
Free Home Delivery
on all orders
Pick up orders
from local bookshops
Reviews
Showing 1 - 4 of 4 reviews.
Review by aztwinmom
16/06/2015
The second in the Spirit Animal series, Hunted is an engrossing adventure. Four children have bonded with Great Beasts and have joined the Greencloaks. As they are training and learning to work as a team, they are sent off,on an urgent mission to get a talisman from Rumfuss, the Great Boar. I quickly became involved in the quick-moving story and in the characters' lives.
Review by SparklePonies
16/06/2015
The second in the Spirit Animals series. Still a great recommendation for tweens and reluctant readers.
Review by vcg610
16/06/2015
Second in the multi-platform series from Scholastic Publishing, Hunted, by Maggie Stiefvater, continues the saga of four children recently bonded to spirit animals. Their quest is to save their world, Erdas, from an evil force that is quickly gaining ground, but first they must learn to become a team, not just with the animals, but with one another.But the evil forces they are charged to overcome are on the move already. Conor, Abeke, Rollan, and Meilin have barely begun their training before they are tasked with finding one of the great beasts of the North. Rumfuss the Boar has custody of a talisman that will help their cause. But Zerif, an agent of the evil force, is aware of it too. Zerif's dark powers have allowed him to force spirit bonding on other children. They are on the move, and what's worse, those kids seem more confident in their skills than our fledgling warriors. Who will get to Rumfuss first? Will our untested young heroes figure out how to utilize the powers available to them through the spirit bonding with the animals?In this concept each of the planned seven books is written by an established Young Adult/Fantasy author. Scholastic has also developed online games that allows readers to become a character living in this world, bond with a spirit animal, unlocking clues to help win the game, based on their knowledge of the book.I received this book courtesy of Texas Library Association at the recent conference, where Maggie Stiefvater was the featured speaker at the closing luncheon. I had not heard of this series but enjoyed Book 2. The characters and the crisis they are dealing with, along with the spirit bonding they have experienced, were all dealt with in Book 1, Wild Born, by Brandon Mull. Necessary background information was woven into the story so it was not difficult to follow the action. Kids will probably want to read the books in order and enjoy the online video games so they can pick up the necessary clues to win the online games. The series is aimed at 3rd to 7th grade readers.
Review by krau0098
27/08/2015
This is the second book in the Spirit Animals series by various authors. I am reading this series because my 8 year old son is reading them and really enjoys them. I am going to be honest here, I struggle some with these books actually holding my interest and I am not quite sure why.In this book Conor, Abeke, Meilin, and Rollan are training to work on their bonds with their spirit animals and with fighting together. This book introduces a new element, a dark elixir that can force a bond between a person and an animal. A group of people forcing bonds called the Conquerors enters the story; they are on the Devourer's side. Our heroes must race the Conquerors to the wild boar Rumfuss to get the next piece of the talisman which will help to destroy the Devourer.There are many elements and ideas I like in this book. All the characters are working to forge bonds both with their spirit animals and each other. It has been fun to watch them change and grow and learn to work as a team. All of the characters are battling both their own fears and biases and learning to accept each other.I enjoy this world and the general premise of good versus evil.However, I continue to struggle with this series. The story just doesn't hold my interest all that much. There are too many plot elements that don't quite make sense. For example why would Connor's mother send him a note telling him how awful things are for them when she knows Connor is already struggling with a big issue? That is so not mom-like. Then why would Connor be so trusting of Earl of Trunswick after having so much bad history with him? There are just times where the plot doesn't make a ton of sense to me.The story bounces between all four characters (and some of the enemies as well). I just feel like this is such a short book already that all the POVs really fracture the story. I had a very hard time staying engaged in it and really struggled with this book. Seriously this book is only 192 pages and it took me three days to read (I usually read 2-3 hours a day and 100 pages an hour). This is not a high reading level or a complicated book to read, but I kept falling asleep or finding reasons not to read it.The above being said I am not the target audience for this series. My son reads them and seems to enjoy them; although he has mentioned he likes Tui Sutherland's Wings of Fire series and Peggy Eddelman's Sky Jumpers series better.Overall an okay addition to this series. I do enjoy the idea behind this series, but have a lot of trouble engaging in the story. The plot doesn't make a lot of sense at times and the constant switching between characters makes it hard to stay engaged in the story. I probably won't read any more of this series unless my son begs me to….
Also in the Spirit Animals series | View all