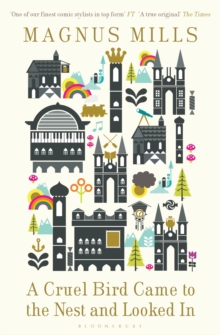 A Cruel Bird Came to the Nest and Looked in
Paperback
Description
Far away, in the ancient empire of Greater Fallowfields, things are falling apart.
The imperial orchestra is presided over by a conductor who has never played a note, the clocks are changed constantly to ensure that the sun always sets at five o' clock, and the Astronomer Royal is only able to use the observatory telescope when he can find a sixpence to put in its slot.
But while the kingdom drifts, awaiting the return of the young emperor, who has gone abroad and communicates only by penny post, a sinister and unfamiliar enemy is getting closer and closer...A Cruel Bird Came to the Nest and Looked In is Magnus Mills's most ambitious work to date.
A surreal portrait of a world that, although strange and distant, contains rather too many similarities to our own for the alien not to become brilliantly familiar and disturbingly close to home.
It is comic writing at its best - and it is Magnus Mills's most ambitious, enjoyable and rewarding novel to date.
Information
Format: Paperback
Pages: 288 pages
Publisher: Bloomsbury Publishing PLC
Publication Date: 01/08/2012
ISBN: 9781408821978
Free Home Delivery
on all orders
Pick up orders
from local bookshops
Reviews
Showing 1 - 1 of 1 reviews.
Review by GingerbreadMan
16/06/2015
The glorious (but somewhat tiny) empire Greater Fallowfields, which has built it's supremacy on the notion that they sail better than anyone else, is crumbling. The emperor never returned from university, and business is now run by the rather inexperienced cabinet of advisors. Everybody lives on tick, the Royal Telescope won't work unless you can find a sixpence to put in the slot and local mail can take weeks due to the postmen refusing to move breakfast. Our narrator has just been appointed Royal Composer, despite never having played a note. The cabinet is in fact all a rather petty and insecure bunch, spending more time trying to get the hang of things, rehearsing a tragedy they don't understand or quarreling than actually ruling. And on the eastern horizon, where there's nothing but those rather uninteresting "friendly cities" a cloud of smoke is drawing nearer and nearer.Magnus Mills is a deeply original writer. I know nobody else with such a knack for finding those little things that make everyday life harder to deal with –convention, custom, bureaucracy, pettiness and obedience - and taking them to the subtly extreme. He's a gentler, funnier, deadpan Kafka. He's also a master at creating characters with very few pen strokes, and the way he manages such a large cast with distinctive voices and personalities with such a sparse, understated style is rather amazing. This is a funny book, no question about that. But Magnus Mills is at his best when a quiet, slightly eerie quality shines through underneath. That, as sometimes is the case, it's missing here. This is thus a much friendlier book than many of his others. It's also, I must say, rather predictable as far as plots go. Also, with the fairytale-ish setting the satire that is often present in his work, is becoming much more underlined. There's no question at all what tiny kingdom, dwelling on a heroic past when it ruled the waves, is referred to here. This is a must for us fans, of course. And also, I guess, not a bad introduction to Mills. Just know that the chuckles and cringes are usually a tad darker than this.