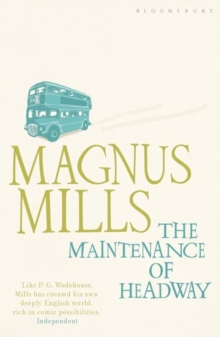 The Maintenance of Headway
Paperback
Description
'It's a matter of procedure,' I explained. 'Strictly for the record. You don't get sacked from this job unless you did what Thompson did'. 'What did he do then'? 'We never mention it'. Enter the bizarre world of the bus driver, a strange but all too familiar universe in which 'the timetable' and 'the maintenance of headway' are sacred, but where the routes can change with the click of an inspector's fingers.
This brilliant short novel is a gently absurd examination of the British bus system and its peculiarities, where the demands of the hapless passengers are virtually ignored and where it is fine to be a little bit late but utterly unforgivable to be a moment early.
Information
Format: Paperback
Pages: 160 pages
Publisher: Bloomsbury Publishing PLC
Publication Date: 01/08/2010
ISBN: 9781408800768
Free Home Delivery
on all orders
Pick up orders
from local bookshops
Reviews
Showing 1 - 3 of 3 reviews.
Review by clfisha
16/06/2015
'There is no excuse for being early.' said Breslin'No I suppose not.''None whatsover.''No.''It is forbidden.''Yes.'Who knew that the kafkaesque bureaucracy of a bus company could by so funny or engaging?A short, yet fun and engaging story by the master of tricks. Well except this time there are no tricks, nothing wrong with that just forewarning to stave of disapointment of fans. What it does have is dry wit and dead pan humour, some great characters, wonderful observations and the ubiquitous unsettling sinister overtones. Ok there is no plot, more a series of vignettes and humourous discussions but that doesn't matter it's still engaging and everyone who has used public transport will see the ring of truth.If you haven't read Mills this may not be the best place to start, his 1st book [Restraint of Beasts] is a good as place as any though.
Review by mailguard
16/06/2015
The first Magnus Mills book I have read and I enjoyed it. I am sure the subject has specialist appeal but for anyone who has been a bus driver, there was plenty in the book that rang true and I could put names to several of the characters. Not side-splitting humour but had many a chuckle , but must go now or I will be late.
Review by GingerbreadMan
16/06/2015
After a detour into a slightly more fantastical landscape for a couple of books, Mills brings it home to his trademark understated everyday absurdsim again. This slim volume, dealing with the fragile, odd construction that is the British bus system is probably way more documentary than you'd like to think. As usual, Mills has a perfect eye for the million little things that can complicate something as presumeably straightforward as taking a bus from part of a city to the other. There's the clash between the drivers' wish to run slightly early and the officials' preferreance for running slightly late. There're the sudden changes in route. There are hapless water work workers placing temporary traffic lights with badly calibrated intervals. There's red tape, fraction making and endless theory making in the lunch room. And of course "the maintenance of headway", that illusive, impossible to reach principle of exactly eight minutes between each bus on a route. This is a kind of novel I don't know of anybody but Mills being able to pull off. While Mills' usual themes ofi ndividual, collective and corruption are all present, here he is operating on a smaller scale than ever. There's virtually nothing in here that isn't mundande or petty, but everything is told in great, earnest detail. The result isn't his finest work by a long shot – but perhaps his most uncompromising yet.