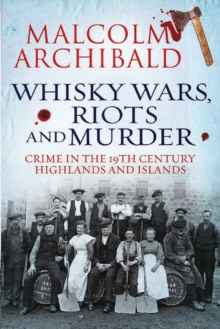 Whisky Wars, Riots and Murder : Crime in the 19th Century Highlands and Islands
Paperback / softback
Description
Although the nineteenth-century elite looked on the Highlands and Islands as a sporting paradise, for the indigenous population it was a turbulent place.
Rather than a rural idyll, the glens and moors were home to poachers and whisky smugglers, while the towns were always ready to explode into riot and disorder.
Even the Hebridean seas had their dangers while the islands seethed with discontent.
Whisky Wars, Riots and Murder reveals the reality behind the facade of romantic tartan and vast estates.
Augmenting the usual quota of petty thefts and assaults, the Highlands had a coastal town where riots were endemic, an island rocked by a triple murder, a mob besieging the jail at Dornoch and religious troubles in the Black Isle.
Add the charming thief who targeted tourist hotels and an Exciseman who was hanged for forgery, and the hidden history of the Highlands is unearthed in all its unique detail.
Information
Format:Paperback / softback
Pages:256 pages
Publisher:Black and White Publishing
Publication Date:12/09/2013
Category:
ISBN:9781845026967