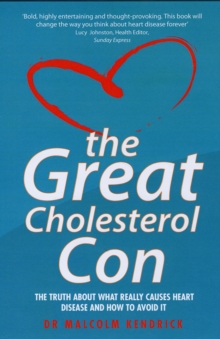 Great Cholesterol Con
Paperback
Description
Statins are the so-called wonder drugs widely prescribed to lower blood cholesterol levels and claim to offer unparalleled protection against heart disease.
Believed to be completely safe and capable of preventing a whole series of other conditions, they are the most profitable drug in the history of medicine.
In this groundbreaking book, GP Malcolm Kendrick exposes the truth behind the hype, revealing: high cholesterol levels don't cause heart disease; a high-fat diet - saturated or otherwise - does not affect blood cholesterol levels; and, the protection provided by statins is so small as to be not worth bothering about for most men and all women.Statins have many more side affects than has been admitted and their advocates should be treated with scepticism due to their links with the drugs' manufacturers.Kendrick lambastes a powerful pharmaceutical industry and unquestioning medical profession, who, he claims, perpetuate the madcap concepts of 'good' and 'bad' cholesterol and cholesterol levels to convince millions of people to spend billions of pounds on statins, thus creating an atmosphere of stress and anxiety - the real cause of fatal heart disease.With clarity and wit, "The Great Cholesterol Con" debunks our assumptions on what constitutes a healthy lifestyle and diet. It is the invaluable guide for anyone who thought there was a miracle cure for heart disease, an appeal to common sense and a controversial and fascinating breakthrough that will set dynamite under the whole area.
Information
Format: Paperback
Pages: illustrations
Publisher: John Blake Publishing Ltd
Publication Date: 07/07/2008
Category: Popular medicine & health
ISBN: 9781844546107
Free Home Delivery
on all orders
Pick up orders
from local bookshops
Reviews
Showing 1 - 2 of 2 reviews.
Review by IonaS
16/06/2015
I've previously reviewed Uffe Ravnskov's book on the same subject - "Fat and cholesterol are good for you". I thought that was a great, essential read, but this book is even better.Kendrick like Ravnskov demolishes what he calls the diet-heart hypothesis (aka the Cholesterol hypothesis) and quotes from Blackadder - "It is wronger than a very wrong thing".His basic theses are:1) A high-fat diet saturated or otherwise does not affect cholesterol levels.2) High cholesterol levels don't cause heart disease.3) Statins do not protect against heart disease by lowering cholesterol levels.4) The protection provided by statins is absolutely negligible and non-existent for women.5) Statins have nasty side-effects including causing horrible deformities in babies.In a study carried out by the author on saturated fat consumption in various countries, it turned out that every single one of the seven countries with the lowest saturated fat consumption had significantly greater rates of heart disease than every single one of the seven countries with the highest saturated fat consumption.Other studies confirmed that a low cholesterol level after the age of 5o (and under 50 for men) is significantly associated with all-cause mortality. In a study from France of women living in a nursing home, the lowest mortality was at an average cholesterol level of 7.0 mmol/l, while the highest mortality was at an average cholesterol level of 7.0 mmol/l. It is dangerous to have low cholesterol levels! - under the age of 50 there is a 429% increased risk of death per 1 mmol/l cholesterol drop according to the Framingham study and after the age of 50 a low cholesterol level is associated with a significantly greater overall mortality.These are just a few of the facts I've plucked from the book. A chapter is devoted to the dangers of statins and the author also delves deeply into the actual causes of heart disease, concluding that stress is the main causal factor, particularly what he terms "social dislocation" - ethnic cleansing, migration to another country, or when an entire society or population is forced to undergo massive change.Kendrick (like myself) is a Scot, and his style of writing is highly entertaining, so this is in no way a dull book, though the subject-matter is deadly serious.I strongly recommend this book to everyone.
Review by wyvernfriend
16/06/2015
Found this a quite entertaining read, a quite serious topic written in a style that engaged me quite well. He asks whether or not Statin drugs are actually useful or just a moneymaking venture by drug companies that don't help most of the patients but give side effects. He also asks if Cholesterol is actually the bad guy or if our ideas of diet are misguided. He argued persuasively and made me think about this diet experiment we're living through.