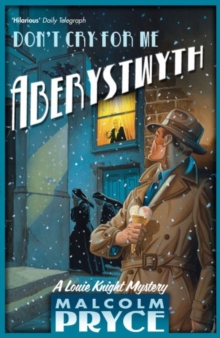 Don't Cry for Me Aberystwyth
Paperback
Description
It's Christmas in Aberystwyth and a man wearing a red-and-white robe is found brutally murdered in a Chinatown alley.
A single word is scrawled in his blood on the pavement: 'Hoffmann'.
But who is Hoffmann? This time, Aberystwyth's celebrated crime-fighter, Louie Knight, finds himself caught up in a brilliant pastiche of a cold-war spy thriller.
From Patagonia to Aberystwyth, Louie trails a legendary stolen document said to contain an astonishing revelation about the ultimate fate of Butch Cassidy and the Sundance Kid, but he's not the only one who wants it.
A bewildering array of silver-haired spies has descended on Aberystwyth, all lured out of retirement by one tantalising rumour: Hoffmann has come in from the Cold.
Louie Knight, who still hasn't wrapped up his presents, just wishes he could have waited until after the holiday.
Information
Format: Paperback
Pages: 288 pages
Publisher: Bloomsbury Publishing PLC
Publication Date: 20/02/2009
Category: Crime & mystery
ISBN: 9781408800683
Free Home Delivery
on all orders
Pick up orders
from local bookshops
Reviews
Showing 1 - 2 of 2 reviews.
Review by AHS-Wolfy
16/06/2015
Father Christmas has been brutally murdered and mutilated in rather a shocking way which quite upsets Mrs Dinorwic-Jones when she arrives to draw the chalk outline around the body. Someone purporting to be the Queen of Denmark contacts Aberystwyth's most famous (and only) private detectives Louie Knight and his partner Calamity Jane wanting them to find out who did it. Everybody knows Father Christmas comes from Greenland and with that being an administrative division of her country, the Queen doesn't want the crime to go unpunished. Because business has been a little slow and the money arrives in his account, Louie feels compelled to take the case. Calamity also takes the opportunity to test out some new techniques she's been picking up from the Pinkerton's manual she's been reading recently. The biggest clue they have is the name, Hoffmann, written in blood by the victim just before he died. It seems to point to the capture of Adolf Eichmann and one of the darkest moments of the war in Patagonia that none of the veterans want to talk about along with the exploits of Clip, the Welsh equivalent of Lassie, of which a new cut of his most famous movie, Bark of the Covenant, has just been released. Clip certainly isn't going to be talking though that may have more to do with him being stuffed and mounted in a glass case in the museum rather than general reluctance. But what's it all got to do with Butch Cassidy and the Sundance Kid?This is the fourth book and probably darkest of the series so far. The noir-ish tropes are all present and accounted for but while the humour is still prevalent it's much blacker in nature this go around and one character's death is quite brutal and shocking. The prose is once again excellent and while the plot heads out towards the surreal it never quite reaches the boundaries of being too much. An excellent addition to the series and probably my favourite so far.
Review by dtw42
27/08/2015
Absolute bloody genius. Funny, yes, but also gripping and at times achingly poignant. Start from the absurdist premise of an alternative-reality Hollywoodesque noir version of Abersytwyth, with Louie Knight as this sort of latter-day Welsh Sam Spade. People it with all the series' usual characters: Sospan, the ice-cream seller; Eeyore – Louie's dad, the donkey-ride man; Inspector Llunos; Mrs Llantrisant and the evil school games-master-turned-circus-strongman Herod Jenkins. Then weave around it a tale of a decades-long search for a lost macguffin that takes you from Butch and Sundance to Adolf Eichmann to Welsh Patagonia and home again ... a search as mind boggling as that for the Maltese Falcon, and ultimately as futile. And underneath it all ripple the undercurrents of loves lost: Louie's adored Myfanwy, forever within sight but kept just out of reach by the knife-twists of fate. I must admit I had to stifle a tear or two in the final pages.