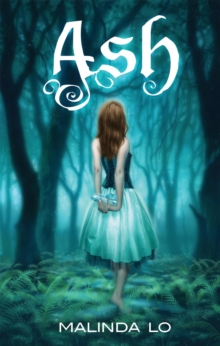 Description
In the world of ASH, fairies are an older race of people who walk the line between life and death, reality and magic.
As orphaned Ash grows up, a servant in her stepmother's home, she begans to realise that her beloved mother, Elinor, was very much in tune with these underworld folk, and that she herself has the power to see them too.
Against the sheer misery of her stepmother's cruelty, greed and ambition in preparing her two charmless daughters for presentation at court, and hopefully royal or aristocratic marriage, Ash befriends one of these fairies - a mysterious, handsome man-who grants her wishes and restores hope to Ash's existence, even though she knows there will be a price to pay.
But most important of all, she also meets Kaisa, a huntress employed by the king, and it is Kaisa who truly awakens Ash's desires for both love and self-respect...ASH is a fairy tale about possibility and recognizing the opportunities for change.
From the deepest grief comes the chance for transformation.
Information
Format: Paperback
Pages: 304 pages
Publisher: Hachette Children's Group
Publication Date: 01/02/2010
Category: General
ISBN: 9780340988374
Free Home Delivery
on all orders
Pick up orders
from local bookshops
Reviews
Showing 1 - 5 of 22 reviews.
Previous | Next
Review by Rhinoa
16/06/2015
I picked this up in an airport travelling for work as I really liked the cover. It was in the teenage fiction section and in a retelling of Cinderalla. The book follows Ash after her mother dies. Her father is in a lot of debt and tricks a rich, vain woman into marrying him. She mistreats Ash though and after her father dies she becomes their slave. Her mother was linked to the fairy folk and Ash tries to keep up with the old customs even after moving into a more modern house with her step mother and step sisters. This is where the author starts to have more fun and inject her own ideas onto the traditional story. Ash does meet the prince, but he is never really the focus of her attentions. Instead it is the Kings Huntress, Kaisa who she is drawn to. She also has much to do with one of the male fairies and there is a curse that is uncovered as the plot unfolds. This was a lovely book and it was so refreshing to read a story where the main character is attracted to a woman and not following after the prince. There is no issue of her liking someone of the same sex, no fuss is made and it is not dwealt on, merely part of the story. At a bonfire couples pair off and there is a mix of men and women as well as woman and women couplings again with no issue made of it. It felt like a mature way to tackle the story and I would recommend this highly to anyone. One of my most enjoyed books so far this year and I am so glad the cover was pretty enough to catch my eye as I might have missed it otherwise.
Review by LarissaBookGirl
16/06/2015
After Aisling's mother died her father remarried, soon after her father died also. All alone in the world Aisling was left to be raised by her stepmother, a woman who insisted she work of the debts left behind by her father. So Ash, the daughter of a gentleman, was forced to become a servant to her stepmother and her two stepsisters.If this story sounds familiar so far then it should, for Ash is a re-imagining of Cinderella. But where Cinderella is rescued by a fairy-godmother and a handsome prince, Ash is indebted to a hansom faery and has to learn to save herself. Here love takes on many forms and for Ash love is found in the woods, a special place to Ash and her true love, but who is the one she truly loves?Ash's world is a mixture of new customs and old traditions steeped in an ancient land full of stories and enchantment. You have never heard the story of Cinderella told like this before, where a heroine must fight to save herself and to be with the one she loves, where inner strength is found through confidence, belief and love. Ash is a story full of magic and a fairytale full of fairy tales.
Review by generalkala
16/06/2015
A Cinderella retelling that isn't very Cinderella-y.This is meant to be a reworking of the classic fairy tale with the addition of fairies, but the original is barely recognisable. Ash and the Prince barely pay attention to each other, 'Cinderella' is a lesbian, there's no glass slipper to be left behind and no transformation of vegetables into carriages. The only aspect of it that does overlap is a ball gown that magically appears on the doorstep. I don't understand why the girl is holding glass slippers on the cover, as there aren't any in the story.The writing is very readable but clearly aimed at younger readers. However, the descriptions are beautiful and clearly make you feel the elegance of the scenery. The dialogue is unstilted and natural. Malinda Lo obviously has skill.The thing that struck me most was the complete lack of emotion. The reader is never told how Ash feels, whether it's hatred, love or jealousy. She takes the existence of fairies as the most natural thing in the world and doesn't even consider that this might be, perhaps, a little bit odd.The ending is rather rushed, I feel, but I won't spoil it.Basically, a quick yet forgettable read.
Review by booksandwine
16/06/2015
I found Ash by Malinda Lo through book blogs, found many positive reviews, and decided, why not order the book, as I love the cover, and I liked that it received almost universal positive reviews.Fancy my luck, when those reviews turned out to be mostly correct. Now, I will admit bloggers are not a homogenous group of people, we like different authors, different books, different writing styles, one person's Danielle Steele may be another person's Shakespeare. I know in time, you find bloggers who are your reading soul-mate, it is like this person climbed into your brain and just intuitively has the same taste in reading as you. I think I have found a few reading soul-mates. When I saw their reviews for Ash, I absolutely knew I had to read Ash. Turns out I highly enjoyed it. I love a good cover, I love a good fairy-tale retelling, and I love me some diversity, as I've been through the higher education political correctness track, so you must imagine my excitement over a re-telling of Cinderella with lesbians and handsome fairy men! OH MY GAWD was I excited when the smiling amazon box came in the mail with this book. I promptly opened the box, took out the book, and began to read. Unfortunately I have a busy busy busy life, so I had to take breaks.Ash is full of intriguing characters such as Sidhean the fairy, Aisling who is Ash, her stepsisters Clara and Ana and of course Kaisa. To be honest, I want to know more about Clara and Ana and Kaisa! For example, why is Ana such a bitch, I want to know the deep underlying reason besides the fact that her mum is one as welll. I want to know how Clara turned out so sweet. I want to know about Kaisa's background and her life. I really enjoyed the secondary characters. Now this isn't to detract from Aisling, since she's interesting. I like that she occasionally gave her witch of a stepmother the retort she deserved.I liked the writing style, except parts seemed to just drag on and on. I did like how this truly felt like a fairy tale. I didn't feel the writing was contrived at all. I know some books try to do the fairy tale re-telling and it's just plain awkward , but this was not awkward. I felt empathy for Ash's plight, how much does it suck to lose both parents, oh and I hated her stepmother deeply what a crazy betch.I highly recommend Ash!
Review by wyvernfriend
16/06/2015
There are moments that drag somewhat and the ending was a bit too rushed for me but otherwise it's a good version of Cinderella, with several interesting twists. It uses several portions of different variants of Cinderella or Asputel or... to create an interesting story and it didn't end as you'd expect. Rather more as I hoped than as I expected. For me there wasn't quite enough depth to the characters but I did like it.Aisling (Ash) loses her mother, and her father goes to a large nearby town to find another mother. When he dies in turn, her stepmother decides to demote her to servant and bullies her. There is some Faerie and hunts people with mysteries and overall an interesting variation on an often told story.