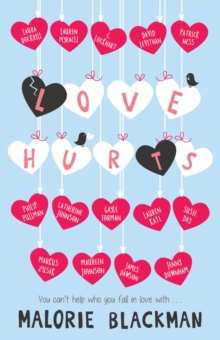 Description
Malorie Blackman brings together the best teen writers of today in a stunningly romantic collection about love against the odds.
Featuring short stories and extracts - both brand-new and old favourites - about modern star-crossed lovers from stars such as Gayle Forman, Markus Zusak, Patrick Ness and Andrew Smith, and with a new story from Malorie Blackman herself, Love Hurts looks at every kind of relationship, from first kiss to final heartbreak.
Information
Format: Paperback
Pages: 576 pages
Publisher: Random House Children's Publishers UK
Publication Date: 29/01/2015
Category: Romance
ISBN: 9780552573979
Free Home Delivery
on all orders
Pick up orders
from local bookshops
Reviews
Showing 1 - 1 of 1 reviews.
Review by TPauSilver
27/08/2015
Love hurts is a collection of young adult stories and novel experts on the theme of love. Okay, let me tell you how I ended up buying this book. Rainbow Rowell tumbled about a short story in it called Tumbling. It's about wo girls falling in love through fandom and I'm 100% there for that so I went and bought it without looking into the contents becasue why would I do that? Short story collection, am I right? What'm I going to find out from there? What I would have found out is that this isn't a short story collection. It's mostly an exercise in trying to sell me other books by providing me with exerts with a few original short stories thrown in as a kind of justification for the volume. I HATE this. I mean, I'm not sure I wouldn't have bought it anyway so fandom is my life but I really feel like I've been tricked here. It's not what I signed on for and I'm aware that it's my fault for buying the thing without checking it out thoroughly but still. I started with the intention of reading it all but some of the exerts are really badly chosen. Like, it's hard to pick a chunk out of a novel and have it make sense out of context but, for example, one of the sections came in just AFTER a big revelation and ended just BEFORE a reconciliation, thus providing me with a weird middle bit and making me less likely to buy that book out of spite. So, in the end, I just read the short stories and I'm going to review them below. Humming though my Fingers - Malorie Blackman. Well, this story could probably have been more offensive if it tries but she would have had to try. The protagonist is a blind girl. A boy asks her out. She teaches him to see with his other sense and he begins to fall in love. Now, there are three things that upset me about this story. When we talk about disabled people's representation in media there are a few stock 'positive' stereotypes that actually function only to make the able bodied people feel better about them. This is inspiration porn, and this character fits the trope because, yes, she'd lost her sight but she basically functions normally in a sighted world and is in fact even better becasue look how CONNECTED with the world she is!!!!! The second stereotype we come up against, linked in, is the super!crip. Also called compensation. This character is, say, blind but somehow their other senses magically sharpen themselves to super-human capacity to allow them to function as sight. And yes, your character is still a super-crip if you go out of your way to point out that she had super-human hearing BEFORE she became blind. The MC in this fic basically functions as a sighted person, like Daredevil. Through a combination of apparently perfect memory and other senses she manages to navigate the world. Bringing me to problem three. Synthasia. Synthasis is a condition where your mind links thing, often one sensory input to a colour. So, for example, when you hear a bell you might see yellow. Some people will actually see a yellow shape in their vision, some will just think, ah, sounds yellow. Synthasis is not a wonder condition that lets you know what colour someone's coat is even though you can't see it. Colour is a visual phenomenom, you can not sense it in any other way. A person with synthasia who went blind would still, for example, think something sounded or tasted or smelt of a colour, but that would, as always, have no relation to the colour the thing actually is. 5 minutes of research would have clarified this. Wikipedia would have clarified this and frankly not getting it even a little bit right is unacceptable. Tumbling - Susie DayThis was everything I wanted. I'm glad I read this story. It used the inside language of fandom. It was beautiful. It captured perfectly that difficulty in transitioning online relationships into real world relationships and the awkward ways in which the physical interferes while also talking about the strange ways we build relationship in fandom. It was lovely. I'd change nothing. Gentlewoman - Laura DockrillAbout the transition experience of a young trans!woman. I quite liked this. It was very good at capturing the feeling of depression. Of changing states, going from something to something else and how hard that is. Miss Lucy had a Steamboat by David LevithanI really liked this too. It's a lesbian love story that focuses on an unequal relationship between two girls, one who falls hard and fast and one who doesn't. It managed to incorporate things like homophobia without making the story about it and show a lesbian relationship as flawed and troubled in a way fictional lesbians aren't normally allowed to be. The Unicorn by James DawesonAn elderly gay man thinking back to his first love. I really enjoyed this story. It was very atmospheric and emotional. Really liked it. So, yeah. I had to take points away as most of the book is an advert but the original work in it was interesting. There were some great non-heterosexual characters and a trans character. There were characters of colour. It felt progressive and interesting. The only real low note of the short stories was the one by Malorie Blackman which was disappointing. Otherwise it's an interesting collection. Not sure if it's worth the price of admission but, well, if you've read this you know what you're buying into and that's your call to make.