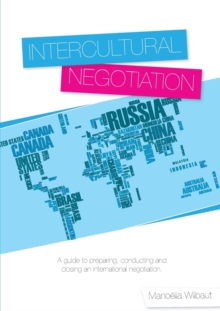 Intercultural Negotiation : A Guide to Preparing, Conducting and Closing an International Negotiation
Paperback / softback
Description
With the increasing globalisation of businesses and markets, inter-cultural negotiation is becoming an increasingly important part of many companies' day-to-day business. Negotiations between executives from different cultures can be difficult and challenging, even for the experienced executive.
The key is not just to understand the cultural differences, but to learn how to take advantage of them, rather than simply overcome them. This practical book provides a roadmap to successful intercultural negotiation.
It is packed with example, tips and advice, based on the author's extensive experience in this area. Many businesses are now focusing on the East-West divide.
This important book shows how these intercultural issues can crop up much closer to home as well - for example in transatlantic negotiation, or even (perhaps especially) intra-European negotiation.
Information
Format: Paperback / softback
Pages: 216 pages
Publisher: Management Books 2000 Ltd
Publication Date: 28/02/2012
Category: International business
ISBN: 9781852526948