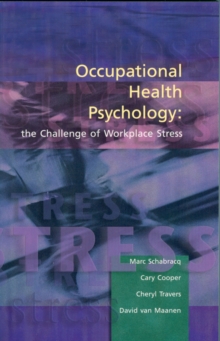 Occupational Health Psychology : The Challenge of Workplace Stress
Paperback / softback
Description
Constant and rapid change, which is a characteristic of all organizations today, demands that, as workers, we develop the ability to anticipate and adapt to change whilst minimising stress and disruption. 'Survival of the fittest' is no longer the rule but rather 'survival of the fitting'.
This book is about developing this ability to adapt, both at an individual and an organizational level and, in the process, developing more effective organizational and personal resources and skill.
At an individual level, the negative effects of stress are various: loss of creativity and effectiveness, loss of work motivation and pleasure, and various psychological and physical complaints.
For organizations, the effects of high levels of stress are just as concerning: lower productivity and poorer qualityfailing communication and conflicthigh turnover of well-qualified employeeshigh costs of sick leave and work disabilitynegative public relations.
Stress is a valuable indicator of individual and organizational health and well being. This book outlines a 7-stage project management approach to stress which identifies both personal and organizational sources of stress and examines the different ways in which individuals characteristically react, whilst an extensive Addendum offers a range of positive interventions.
This book is intended as a textbook for HR professionals, consultants and line managers as well as individual employees interested in tackling stress in the workplace.
The highly structured approach and the frequent use of Self-Assessment Questionnaires and Points for Reflection make this book a valuable teaching and self-learning tool.
Above all, it is a practical guide to the problems of workplace stress.
Also by Marc J. Schabracq