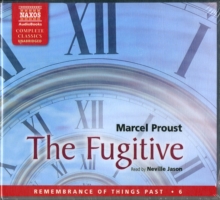 The Fugitive : 6
CD-Audio
Description
Remembrance of Things Past is one of the monuments of 20th-century literature.
Neville Jason's widely praised 36 CD abridged version has rightly become an audiobook landmark and now, after numerous requests, he is recording the whole work unabridged which, when complete, will run for some 140 hours.
The Fugitive is the sixth of seven volumes. The Narrator's obsessive feelings of possession for Albertine has forced her to flee.
It comes as a terrible shock and is followed by further destabilising news about other friends.
Information
Format: CD-Audio
Pages: 11 pages
Publisher: Naxos AudioBooks
Publication Date: 01/10/2012
ISBN: 9781843796145