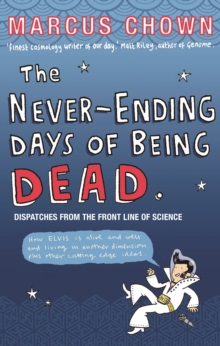 The Never-Ending Days of Being Dead : Dispatches from the Front Line of Science
Paperback
Description
In Chown's most ambitious book to date he sets out to answer some of the most provocative questions of today: Where did we come from?
What the hell are we doing here? Is Elvis alive and kicking in another space domain? What's beyond the edge of the Universe? Did aliens build the stars? Can we live forever? "The Never-Ending Days of Being Dead" is a fascinating and delightful popular science book, and an eye-opening look at the nature of reality and the place of life in the universe.
Information
Format: Paperback
Pages: 336 pages
Publisher: Faber & Faber
Publication Date: 20/09/2007
Category: Popular science
ISBN: 9780571220564
Free Home Delivery
on all orders
Pick up orders
from local bookshops
Reviews
Showing 1 - 1 of 1 reviews.
Review by georgematt
16/06/2015
Very much a product of the popular science genre, Marcus Chown gushes, with an overload of exclamation marks, about some of the more head spinning theories from physics and cosmology. I really enjoyed these quick snap-shots from the wilder fringes of science and in the process getting my mind well and truly boggled! We have an infinity of bubble universes arising from the big-bang, where somewhere our exact double must exist! We have the idea that our universe was created by a collision with another universe! Another scientist theorises that the secrets of space and time could be contained in a single number! The book ends with the most outrageously grandiose speculation of them all-Frank Tipler's Omega Point, where each and every one of us is resurrected in a computer simulation at the end of time!Those of you who look to the supernatural or religion to provide a sense of wonder should read this book. Here they will find material science providing an enormously more powerful fix of astonishment and surprise.