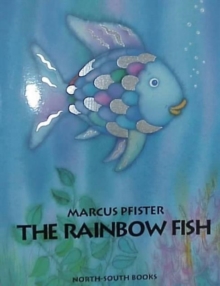 Rainbow Fish : Big Book
Paperback
Information
Format: Paperback
Pages: 32 pages, colour and b&w illustrations
Publisher: North-South Books (Nord-Sud Verlag AG)
Publication Date: 23/03/1995
Category: Picture books
ISBN: 9781558584419
Free Home Delivery
on all orders
Pick up orders
from local bookshops
Reviews
Showing 1 - 5 of 19 reviews.
Previous | Next
Review by Nicolemerriweather
16/06/2015
The Rainbow Fish. This book is about the most beautiful fish in the ocean. The other fish called him rainbow fish because of his unique colors. Later he thought her was better then the other fish that all the other fish didn't want to hang around him. So he swam around the ocean asking for advice on how to get the other fish to play with him. In the end the fish learned a very valuable lesson on how to treat other people. I read this story to a class of four year olds. I chose this class because a lot of them are going to school and they might have a hard time learning to be nice to new kids that comes to the class. But when I finish the book I felt as if some of them was nicer to their fellow class mates but of course tomorrow was another day and all went back to the way it was. But I tried to remind them of what happen to the fish when he was mean to the other fish. The activity I used with this book was the sharing game. I let everyone pick out a toy from our center and had them sit in a circle. And the idea was to find someone in the circle to give you toy to and allow them to play with it for a while. Then you would get your toy back. I have a few students like this activity and a few who didn't. My next activity later that week was for us to sit in a circle and take turns saying something nice to the person sitting on both sides of us. This became very entertaining when we got to some of the more not so nice kids. It was a well learned activity for me and the children.
Review by rachelsticka
16/06/2015
Children will most likely be memorized by the art in this book. The shiny scales enchanted be as a child. Also, this book promotes sharing with children, though apparently critics believe it promotes socialism and communism.  
Review by TaraThompson
16/06/2015
I loved this book growing upand I think that kids will love the pictures. Especially the shinny scales. And the storyis really cute too, with a goodmoral. (6+)
Review by kelasater
16/06/2015
Rainbow Fish is the most beautiful fish in the sea and knows it because he has shiny scales. A small blue fish wants Rainbow Fish to give him one shiny scale but Rainbow Fish does not want to share because he thinks he should be the only one with shiny scales. He begins to lose friends and no one admires him anymore. After speaking to the wise octopus, he decides to share one small shiny scale with the small blue fish, and then begins to share his other scales with other fish. He soon realizes that he is happiest when helping others and sharing.
Review by hebeaton
16/06/2015
This book was also read to me as a young child. I was always fascinated by the pictures more than the actual story, but now that I am older I really enjoy the story too. It is about a beautiful fish who is proud of his looks but none of the other fish like him. The story tells his of his quest for friendship and how he achieves it. This book has a good lesson about how to treat others.