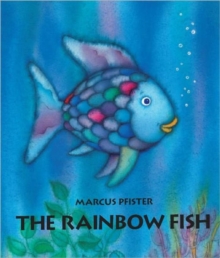 The Rainbow Fish
Board book
Information
Format: Board book
Pages: 14 pages, colour illustrations
Publisher: North-South Books (Nord-Sud Verlag AG)
Publication Date: 27/01/1999
Category: Baby books
ISBN: 9781558585362
Other Formats
Paperback from £6.75
Other book format from £5.89
Hardback from £10.49
Board book from £5.19
Free Home Delivery
on all orders
Pick up orders
from local bookshops
Reviews
Showing 1 - 4 of 4 reviews.
Review by lquilter
16/06/2015
A vain fish with beautiful colorful scales is told, essentially, to solve his unpopularity by giving away his beautiful scales. He does, and is very happy because he made so many other fishes happy. Eh. I was underwhelmed. The book is illustrated beautifully, but the text was uninspiring. And what are we saying, here? That if you're beautiful or special you have to make yourself ugly or the same as everyone else to have friends? Shades of "Harrison Bergeron". The idea that the fish is happy because he saw how happy he made the other fishes is great, but it doesn't really resolve the fundamental problem that was set up: He was vain and thought himself better than everyone else, and so was rude to them. And we're supposed to understand, from the other fish, perhaps that it's okay to put up with people being rude to you so long as they give you shiny stuff? Maybe it's better in the original German. I'll look for other books that do a better job of focusing on "sharing", without sub-themes of conformity and how to buy friendship.
Review by soonergirlam
16/06/2015
Summary:A beautiful fish is sad because he has no friends. The other fish are jealous of him because of his beauty. He asks for advice and is told to share some of his shiny scales with the other fish so he will have friends. He shares with them and makes friends. Personal Reaction:I love this book! I made my mom read it to me every night when I was little! The illustrations are captivating!Extension #1:I would have the students make a rainbow fish! Extension #2:I would have the students journal about how they would feel if they were to share their beauty with someone else.
Review by tjsjohanna
16/06/2015
One of the best things about this book is the illustrations. They are beautiful. Toddlers will like the shiny metallic accents. The story is simple and encourages sharing in a low key way.
Review by DVerdecia
02/03/2016
This little book is an Excellent children's book. I highly recommend it. It is a story about a fish...a rainbow fish who has very beautiful colorful shiny scales. The Rainbow Fish loved it when everyone admire her. But she never liked to share. One of the fish came and ask for one of her scales. And she was very rude and refused.<br/><br/>Word got around that the Rainbow Fish was mean and would not share. After a while, no one would pay attention to her anymore. The Rainbow Fish became lonely and unhappy. So the Rainbow Fish went to the wise Octopus of the sea for advice. What the Rainbow Fish learned next was truly amazing.<br/><br/>This is a story about sharing and interaction. And also what truly makes someone happy in life. Again, I highly recommend this book because it shares a good idea that can help kids.<br/><br/>The print is somewhat small so it would be better if an adult read it to a child but that is not to say that an early reader could not read this book on their own. The pictures are very pretty and the Rainbow Fish itself is very eye catching. I could see where a child would be lured by a picture of the Rainbow Fish and then wants to read what it says to find out what is going on with it.<br/><br/>If you have young readers in your family, this would be a great book to read to them or to let them read on their own.