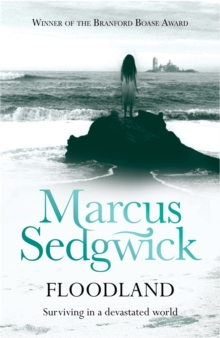 Description
Winner of the Branford Boase Award 2001, Marcus Sedgwick's powerful debut novel about surviving in a sinking world marks the beginning of the author's multi-award-winning career.
Imagine that a few years from now England is covered by water, and Norwich is an island.
Zoe, left behind in the confusion when her parents escaped, survives there as best she can.
Alone and desperate among marauding gangs, she manages to dig a derelict boat out of the mud and gets away to Eels Island.
But Eels Island, whose raggle-taggle inhabitants are dominated by the strange boy Dooby, is full of danger too. The belief that she will one day find her parents spurs Zoe on to a dramatic escape in a story of courage and determination that is handled with warmth and humanity.
Information
Format: Paperback
Pages: 128 pages, 21
Publisher: Hachette Children's Group
Publication Date: 02/03/2000
Category: General
ISBN: 9781858817637
Free Home Delivery
on all orders
Pick up orders
from local bookshops
Reviews
Showing 1 - 1 of 1 reviews.
Review by MyopicBookworm
16/06/2015
Post-holocaust novels are now perhaps old hat, and the genre of the future will be post-climate-change novels. This is a worthy addition to the field, aimed at teenage readers. (Although I've tagged it "SF", the "science" label is scarcely apt for what is essentially a realistic novel set in an entirely mundane future England.)As the eastern counties of England are slowly drowned by the encroaching sea, Zoe is separated from her parents as they attempt to board the last boat west out of Norwich. Making her own escape from the isolated and increasingly chaotic town in a rowing boat, she is washed up on a small island dominated by a cathedral. (This, though named etymologically as "Eel Island", is clearly Ely, perched on its tiny mound above the fens.) It is inhabited only by a band of feral children, the adults having perished of disease or conflict with other tribal groups, except for the semi-lucid William Blake, a mild-mannered and educated lunatic, who wanders around quoting gnomic fragments from the works of his great namesake. Ely's chaos is held back from complete anarchy by the brutal Dooby, an unpleasantly amoral teenager who has made himself into a gangster leader, but he is intelligent enough to realise that the shrinking island is doomed, and Zoe survives only because he hopes to force her to take him to safety in her boat.Like much solid and readable speculative fiction, the book relies more on situation and atmosphere than character or personal relationships. Although comparisons of Sedgwick's Ely with <i>Lord of the Flies</i> are inevitable, little attempt is made to impede the flow of the story with detailed social or psychological analysis, and the characterization (like J. K. Rowling's) is sufficient to inform the reader, provide plausible motivations, and move the plot forward, without becoming a serious focus. There are moments of genuine pathos, and some realistic moral dilemmas. In a tale about flooding, I was relieved to find that the only biblical references were veiled allusions to large boats and the need for breeding pairs to sustain livestock, though Noah's ancient Near Eastern analogue Utnapishtim is unexpectedly named. The placing of the action in a claustrophobically tiny enclave of eastern England, out of touch with the rest of the world, is reminiscent of other post-catastrophic settings such as the Kent of Russell Hoban's <i>Riddley Walker</i>, the Oxfordshire of Brian Aldiss's <i>Greybeard</i>, or the "wherever it is" of Iain Banks's <i>Song of Stone</i>. The eventual ending is a slightly rushed resolution, but I don't think this is a major weakness, though most adult novels would probably have avoided it in favour of bleak pessimism.