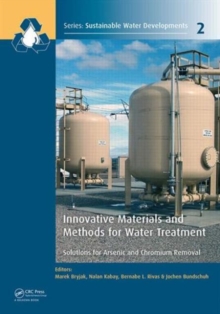 Innovative Materials and Methods for Water Treatment : Solutions for Arsenic and Chromium Removal
Hardback
Description
Due to increasing demand for potable and irrigation water, water suppliers have to use alternative resources.
They either have to regenerate wastewater or deal with contaminated surface water.
This book brings together the experiences of various experts in preparing of innovative materials that are selective for arsenic and chromium removal, and inventing some innovative processes to extract these elements from water.
The book should be of high interest to engineers and decision-makers responsible for production and delivery of safe water.
The book is divided into three parts. The first one shows the effect of arsenic and chromium ions on living organisms.
The second one presents the studies on preparation of innovative materials with improved affinity towards arsenic as well as chromium.
The third part shows the innovative methods for removal of these toxic elements, with special attention paid to chromatographic, membrane, and hybrid systems.
The book is the first ever scientific work addressed to two most harmful elements appearing in water and provides a comprehensive review of materials and methods useful for making the water safe.
The book discusses in detail the various fabrication techniques for sorbents and membranes that are now commercially available or appear in the development stage and will be commercialized in the next decades.
Some of the technologies described in the third part will be implemented at the industrial scale in the future as well.
Information
Format: Hardback
Pages: 438 pages
Publisher: Taylor & Francis Ltd
Publication Date: 17/02/2016
Category: Water supply & treatment
ISBN: 9781138027497