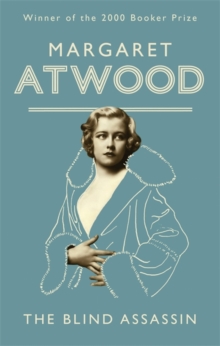 The Blind Assassin
Paperback
Description
Laura Chase's older sister Iris, married at eighteen to a politically prominent industrialist but now poor and eighty-two, is living in Port Ticonderoga, a town dominated by their once-prosperous family before the First War. While coping with her unreliable body, Iris reflects on her far from exemplary life, in particular the events surrounding her sister's tragic death. Chief among these was the publication of The Blind Assassin, a novel which earned the dead Laura Chase not only notoriety but also a devoted cult following.
Sexually explicit for its time, The Blind Assassin describes a risky affair in the turbulent thirties between a wealthy young woman and a man on the run.
During their secret meetings in rented rooms, the lovers concoct a pulp fantasy set on Planet Zycron. As the invented story twists through love and sacrifice and betrayal, so does the real one; while events in both move closer to war and catastrophe. By turns lyrical, outrageous, formidable, compelling and funny, this is a novel filled with deep humour and dark drama.
Information
Format: Paperback
Pages: 656 pages
Publisher: Little, Brown Book Group
Publication Date: 19/05/2001
ISBN: 9781860498800
Free Home Delivery
on all orders
Pick up orders
from local bookshops
Reviews
Showing 1 - 5 of 37 reviews.
Previous | Next
Review by bookishbunny
16/06/2015
One of the few perfect books out there. It wasn't a suspense novel. You knew what was what, but the beauty of the story and characters is enthralling. I was sucked in from the beginning.
Review by kaelirenee
16/06/2015
This was not my favorite Atwood novel. That being said, this was still an amazing tale. She masters the juxtoposition of the novella with the author's history and life amazingly.
Review by Abi78
16/06/2015
Excellent. This is the only mystery story I have ever read that has been solvable through an understanding of the characters and what they would have and would not have done.
Review by carsonandreas
16/06/2015
Really good read.Great original storytelling style
Review by drivingsideways
16/06/2015
This was the first novel I read of Atwood, and (for a book randomly picked up off a street in Bombay, since I had no idea who Atwood was!), it was a great find! The story of two sisters, their troubled relationship with each other and those around, set in a time of political and social change, is deliciously told. As a reader you start peeling the layers to get to the truth, much like Iris Chase (the novel's protagonist and narrator),sifting through lies and half-truths, and silences-what is left unsaid (and unwritten) is equally important as what is articulated-until we arrive at the final denoument, and heave a sigh of relief. The story is told as a novel within a novel within a novel- only somebody as gifted as Atwood could probably get away with this multi-layering, and even if the tale of "The Blind Assassin" seems at times awkwardly placed between the main narrative, you love it. The Blind Assassin is one of those few books that I would call truly "unforgettable".