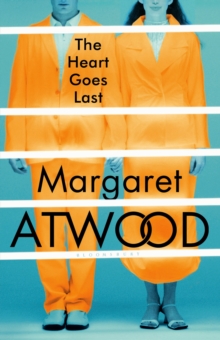 The Heart Goes Last
Hardback
Description
WINNER OF THE KITSCHIES RED TENTACLE AWARD FOR MOST PROGRESSIVE, INTELLIGENT AND ENTERTAINING SPECULATIVE NOVEL Stan and Charmaine are a married couple trying to stay afloat in the midst of economic and social collapse.
Living in their car, surviving on tips from Charmaine's job at a dive bar, they're increasingly vulnerable to roving gangs, and in a rather desperate state.
So when they see an advertisement for the Positron Project in the town of Consilience - a 'social experiment' offering stable jobs and a home of their own - they sign up immediately.
All they have to do in return for this suburban paradise is give up their freedom every second month, swapping their home for a prison cell.
At first, all is well. But slowly, unknown to the other, Stan and Charmaine develop a passionate obsession with their counterparts, the couple that occupy their home when they are in prison.
Soon the pressures of conformity, mistrust, guilt and sexual desire take over, and Positron looks less like a prayer answered and more like a chilling prophecy fulfilled. A sinister, wickedly funny novel about a near-future in which the lawful are locked up and the lawless roam free, The Heart Goes Last is Margaret Atwood at her heart-stopping best.
Information
Format: Hardback
Pages: 320 pages
Publisher: Bloomsbury Publishing PLC
Publication Date: 24/09/2015
ISBN: 9781408867785
Other Formats
Paperback from £7.85
EPUB from £5.99
Free Home Delivery
on all orders
Pick up orders
from local bookshops
Reviews
Showing 1 - 1 of 1 reviews.
Review by natsalvo
27/01/2016
Margaret Atwood is no stranger to writing, as this talented Canadian author has won the Booker Prize and been shortlisted for countless others. She has written over 40 novels but I am a stranger to her work and The Heart Goes Last is my first introduction to this prolific writer. The book was excellent and it has convinced me to delve deeper into her amazing catalogue of works.The Heart Goes Last is about a young couple named Stan and Charmaine. The pair are initially happy and wealthy but they are subsequently hit hard when a financial crisis takes place in their American town. They are forced to live in their car and fight off other people who are also desperately poor. Stan is told he is overqualified for jobs (even though he will accept almost anything, but he does draw the line at engaging in criminal activity with his brother, Conor) and Charmaine makes money as a barmaid. The pair share a grim existence until they happen upon an ad for Consilience.The term Consilience comes from the combination of "cons" and "resilience". The pair sign up and think everything will be hunky dory. In exchange for a house and jobs in a tranquil setting reminiscent of some starry-eyed retro period like the 1950s, the pair are forced to give up their freedoms every second month. On the alternate months they – like countless others – will be imprisoned in a gaol while another couple with live in their house. It's a strange set-up but it's also a social experiment that is engaging in some more sinister elements.The novel is a cautionary tale attempting to warn readers to be careful what they wish for. It's also an excellent social commentary that uses aspects of satire and comedy to riff on an almost real-life existence. In many ways this book is reminiscent of Ben Elton's "Dead Famous" in its pithy observations of modern life. Atwood is also very clever, witty and unique as she weaves together her beautiful and well-constructed prose.For many readers, their enjoyment of The Heart Goes Last will hinge upon how much they relate to the main characters and how far they can suspend their disbelief. I sympathised with the characters so much that when things did veer off on some weird tangents in the final act I was still sold and remained along for the ride. In all, Margaret Atwood's novel is a sharp, fresh and witty look at a very human and insatiable desire for utopia and how this can lead to dystopia, dissatisfaction and an acute sense of modern life being rubbish. This is an utterly original and clever look at all of these things and so much more. Excellent.