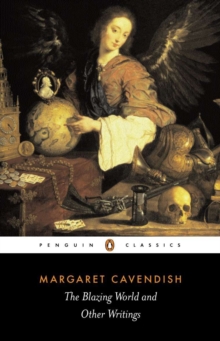 The Blazing World and Other Writings
Paperback
Description
Flamboyant, theatrical and ambitious, Margaret Cavendish was one of the seventeenth century's most striking figures: a woman who ventured into the male spheres of politics, science, philosophy and literature.
The Blazing World is a highly original work: part Utopian fiction, part feminist text, it tells of a lady shipwrecked on the Blazing World where she is made Empress and uses her power to ensure that it is free of war, religious division and unfair sexual discrimination.
This volume also includes The Contract, a romance in which love and law work harmoniously together, and Assaulted and Pursued Chastity, which explores the power and freedom a woman can achieve in the disguise of a man.
Information
Format: Paperback
Pages: 272 pages
Publisher: Penguin Books Ltd
Publication Date: 31/03/1994
ISBN: 9780140433722
Free Home Delivery
on all orders
Pick up orders
from local bookshops
Reviews
Showing 1 - 1 of 1 reviews.
Review by baswood
27/01/2016
Flamboyant, theatrical and ambitious Margaret Cavendish; Duchess of Newcastle (1623-1673) might have been, but her writing for the most part is sleep inducing. Unless you have an interest in proto science fiction or early female romance writing then there is no reason to subject yourself to this collection. I did find some things of interest; after all it is claimed to be the earliest utopian fantasy by a female writer and there is precious little else that survives from a woman's hand in the early 17th century. The Blazing World and other writings is published in the Penguin Classics series and has an introduction by Kate Lilley who says toward the end of her essay that Margaret Cavendish:"She emerges as an ironically self designated hermaphrodite spectacle and as the self-proclaimed producer of hybrid creations and inimitable discourses"Yes, well, this is all a little desperate I think and smacks of trying to read a little too much into Cavendish's literature. The first two pieces "The Contract" and "Assaulted and Pursued Chastity" are basic romance stories in which the heroine will go to any lengths to preserve her chastity to ensure that she makes a good marriage. The Contract is pure mush, but Cavendish does display some wit especially in her praise of older men. Assaulted and Pursued Chastity seems to go on forever as the heroine suffers shipwrecks, captivity, and a Prince as the ultimate stalker. She disguises herself as a man to escape her situation and becomes the leader of an army, there is also a sort of rehearsal for 'The Blazing World' as she lands in a strange country where there are, bird-men, wolf-men, bear-men, worm-men and any other animal men that she can think of. There is an introduction by Margaret Cavendish to her work of fiction 'The Blazing World" in which she says:<i>"it is a description of a new world, not such as Lucian's, or the French-mans world in the moon, but a world of my own creating, which I call The Blazing World: The first part whereof is romancical, the second philosophical, and the third is merely fancy or (as I may call it) fantastical, which if it add any satisfaction to you, I shall count myself a happy creatoress"</i>Any narrative is quickly gotten out of the way in the first few pages when a lady is abducted onto a boat that is blown by a tempest to the North Pole. All the men of the crew freeze to death but the lady survives because of her chastity (yes, because of her chastity) and is saved by wolf-men and bear-men and bird-men. She is taken to the emperor of the new world who recognises a lady of impeccable breeding and immediately makes her an Empress. A long section then follows where the Empress asks questions about the new world of her new subjects. She covers politics, religion, but mainly scientific issues and the interest here is in how much Margaret Cavendish would know as a well read woman of the mid 17th century. (I must confess whenever these basic scientific questions are explored I find myself googling to check that my 21st century understanding is the right one). The last part of the story involves some nonsense about the transportation of souls and Margaret Cavendish herself makes an appearance in the book. I suppose the reader should not be too hard on Margaret Cavendish's fiction especially when we consider that Daniel Defoe's Robinson Crusoe would not be published for another 50 years in 1719. For it's historical interest I would rate this as 3.5 stars, but as an enjoyable reading experience then it would be down to two stars.