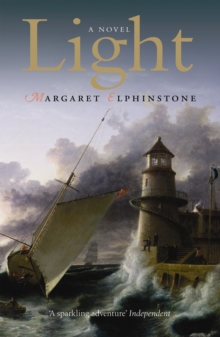 Description
May, 1831, and on a tiny island off the Isle of Man a lighthouse provides a harsh living for an unusual family.
Lucy and Diya, husbandless and with three children between them, watch over the ancient light on Ellan Bride.
Meanwhile the Scottish engineer, Robert Stevenson, is modernising the nation's lighthouses, and Ellan Bride and the future of the family, are under threat.
When two surveyors arrive to assess the light, tension escalates to danger point.
Information
Format: Paperback
Pages: 432 pages
Publisher: Canongate Books Ltd
Publication Date: 16/08/2007
Category: Historical fiction
ISBN: 9781841959849
Free Home Delivery
on all orders
Pick up orders
from local bookshops
Reviews
Showing 1 - 1 of 1 reviews.
Review by wandering_star
16/06/2015
This book takes place when Robert Stevenson (of the famous "Lighthouse Stevensons") was upgrading lighthouses and bringing them under central control. Two of his employees are sent to a tiny island, to survey it and make plans for the new lighthouse. But there is already a lighthouse on the island - and a family that goes with it - both of which are threatened by their arrival. The book focuses on the developing relationship between the the two men (the senior, a cerebral reserved man, and his assistant, who has a better understanding of the impact of their visit) and the motley family who manage the lighthouse - the sister of the former lighthousekeeper, his widow, and their three children. The story really comes alive in the sections where the two surveyors are winning over the initially hostile children - but elsewhere, the book is a little pedestrian: it's carefully put together, from the background given to the characters, to the use of the theme of evolution (the senior surveyor is an amateur of science, and is booked onto the upcoming voyage of the Beagle) to make us wonder whether the lighthouse family are obsolete or whether they are capable of evolving to deal with changing events - but somehow it fails to take wing.