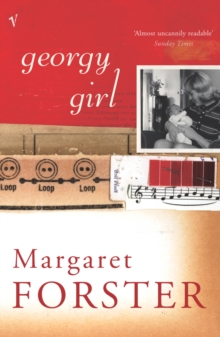 Description
Georgy is young, gregarious and fun - she is also large, self-confessedly ugly and desperate for love.
Georgy bears her fate bravely as she alternates between playing the fool and humbling herself before Meredith, her pretty, callous flatmate, although when James, middle-aged socialite and self-imposed 'Uncle', asks Georgy to become his mistress, she is tempted to accept.
Then Meredith announces that she is pregnant and Jos, the expectant father, decides he is in love with Georgy...
Information
Format: Paperback
Pages: 288 pages
Publisher: Vintage Publishing
Publication Date: 07/04/2005
ISBN: 9780099478492
Free Home Delivery
on all orders
Pick up orders
from local bookshops
Reviews
Showing 1 - 1 of 1 reviews.
Review by mimal
16/06/2015
autumn-2013, radio-4, shortstory-shortstories-novellas, published-1965, britain-englandRead from September 01 to 07, 2013BBC BLURB: By Margaret Forster Dramatised by Rhiannon Tise Jos has Georgy all to himself once again but having to care for a baby has changed everything and a frustrated Jos takes drastic action.Directed by Tracey NealeThe Story:As part of our British New Wave season the Fifteen Minute Drama brings to the Radio 4 airwaves the compelling story of Georgina Parkin. Georgy is twenty-seven. Brought up in Kensington by her parents, Ted and Doris who are live-in servants of rich socialite James. She lives in her own flat in Battersea with the cool and disdainful Meredith who has the male population at her feet. Georgy thinks her flat-mate is beautiful, witty and clever. Georgy, on the other hand, is a physically awkward, large young woman, who lacks self-esteem, never been taken out on a date, let alone kissed. She is desperate to meet someone and fall in love. This is the Swinging Sixties after all.And then she falls in love with Jos, a charming and directionless young man. But there's a problem -he's Meredith's fella and there are complications when Meredith announces she is pregnant. A tangled living situation emerges. Then James makes Georgy an unconventional and surprising offer which she agrees to think about. Is his offer the key to Georgy's happiness? Or, will she hold out for true love with Jos?The Writer:Margaret Forster is the author of many successful novels, including Lady's Maid, Have the Men Had Enough? and The Memory Box and several acclaimed biographies, including Good Wives. Her most recent books have been Diary of an Ordinary Woman and The Unknown Bridesmaid.The Dramatist:Rhiannon won the Richard Imison Award for her first radio play The Waltzer. Her most recent radio play, broadcast earlier this year, was Outside In. Rhiannon has written for the BBC series Doctors and her stage plays have been performed at The Royal Court, The Royal National Theatre, The Traverse Theatre, The Tron Theatre Glasgow, Soho Theatre and The Arcola Theatre.Sing Along!That scene from the filmThis was a perfect production of the story, oozing contemporary 45s in the backgound.2 likes