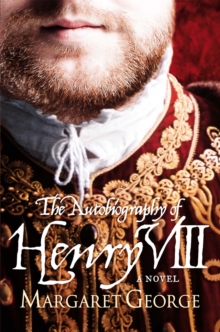 The Autobiography of Henry VIII
Paperback
Description
This is the story of England's most famous, and notorious, king.
The facts of Henry VIII's life and reign were more astonishing, poignant and outlandish than the plot twists of most fiction.
Henry's character was complex: he was a charismatic, ardent -- and brash -- young lover who married six times; a scholar with a deep love of poetry and music; an energetic hunter who loved the outdoors; a monarch whose lack of a male heir haunted him incessantly; and a ruthless leader who would stop at nothing to achieve his desires.
His monumental decision to split from Rome and the Catholic Church was one that would forever shape the religious and political landscape of Britain.
Combining magnificent storytelling with an extraordinary grasp of the pleasures and perils of power, Margaret George delivers a vivid portrait of Henry VIII and Tudor England and the powerhouse of players on its stage: Thomas Cromwell, Cardinal Wolsey, Thomas More and Anne Boleyn.
It is also a narrative told from an original perspective: Margaret George writes from the King's point of view, injecting irreverent comments from Will Somers -- Henry's jester and confidant.
Information
Format: Paperback
Pages: 944 pages
Publisher: Pan Macmillan
Publication Date: 11/03/1988
ISBN: 9780330298735
Free Home Delivery
on all orders
Pick up orders
from local bookshops
Reviews
Showing 1 - 5 of 5 reviews.
Review by Eloise
16/06/2015
I hated this, thought it was dreadful. The americanisms really grated, I don't believe that Henry VIII would have written about his wedding cake's "frosting"! (I doubt he would even cared about about the cake's icing to be honest). It is hard to escape the impression that Henry VIII was an American woman when reading this.
Review by john257hopper
16/06/2015
All three of Margaret George's fictional autobiographies make wonderful reading. Will she write any more?
Review by surreality
16/06/2015
Plot: a historical novel based on the life of Henry VIII from birth to death. The plot obviously brings very few surprises, since George sticks with the facts. Enough side plots to introduce the major players and their importance, not so many that the book is drowned in historical information as it often happens in this genre. Characters: Well-drawn, though George does play on the legends rather heavily and stereotypes the wives in particular. A problem is Henry himself, who at times sounds more like a woman than a man. Style: I disliked the frame narration and the inclusion of Will Somer's comments, since this distracted from Henry's narration and lessened the overall impact. The writing style is not difficult to read, description doesn't go overboard. The author's voice comes through a little too strongly at times. Plus: Very accurate and intriguing portrayal of Henry VIII. George knows her facts and sticks with them even when there could be easier shortcuts. Minus: The frame narration. Summary: a great take on this period in English history that can be read without much background knowledge.
Review by drmaf
16/06/2015
I did enjoy this book immensely when I first read it many a year ago. At the time, i thought it was about as close as any fiction author could come to capturing the real Henry. George's Henry is everything we associate with the Tudor dictator - capricious, arrogant, conceited beyond belief, but also depicts him as capable of great affection and tremendous loyalty to those he considers his true friends, including the narrator, his fool Will Somers. George also works into her story aspects of henry's personaility that I feel are not so well-known but probably equally valid. Among them are deep uncertainties, which he disguises with blustering arrogance, and a desperate desire to be loved. George makes much of Henry being a second son, not destined for the throne until the sudden death of his brother Arthur. The fact that he inherited both a crown and a wife he was not meant to have seems to have had a deep impact on his character, which George skilfully teases out. Her Henry is a much more sympathetic character than the figure history has provided us. Fiction, yes, but really the only way we can approach the real Henry since he left us so little from his own viewpoint. Not a masterwork by any means, its often lurid and sometimes seems contrived, but an engrossing read nevertheless.
Review by mbmackay
27/01/2016
A doorstopper of a book, full of interesting information. Hard for me to tell how accurate, but seems very plausible. Very readable.Read Jan 2005