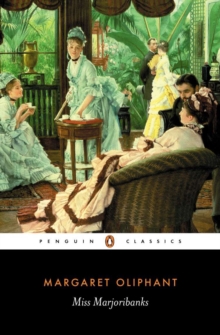 Miss Marjoribanks
Paperback
Description
Returning home to tend her widowed father Dr Marjoribanks, Lucilla soon launches herself into Carlingford society, aiming to raise the tone with her select Thursday evening parties.
Optimistic, resourceful and blithely unimpeded by self-doubt, Lucilla is a superior being in every way, not least in relation to men. 'A tour de force...full of wit, surprises and intrigue...We can imagine Jane Austen reading MISS MARJORIBANKS with enjoyment and approval in the Elysian Fields' - Q.
D. Leavis. Leavisdeclared Oliphant's heroine Lucilla to be the missing link in Victorian literature between Jane Austen's Emma and George Eliot's Dorothea Brook and 'more entertaining, more impressive and more likeable than either'.
Information
Format: Paperback
Pages: 592 pages
Publisher: Penguin Books Ltd
Publication Date: 29/10/1998
Category: Classic fiction (pre c 1945)
ISBN: 9780140436303
Other Formats
Paperback from £12.00
EPUB from £3.99
Hardback from £27.19
Free Home Delivery
on all orders
Pick up orders
from local bookshops
Reviews
Showing 1 - 5 of 5 reviews.
Review by urduha
16/06/2015
Reminded me of Emma, but less everything.
Review by Misfit
16/06/2015
What a great find, and refreshing as it lacks much of the high melodrama so common in most 19th century literature. Miss Lucilla Marjoribanks comes home from school determined to be a comfort to dear papa and sets the good doctor and the entire town on their ears, with her brilliant manipulations. The characters are wonderful, the story has lots of ups and downs that Lucilla is always capable of meeting with great ingenuiuty and fortitude. There are many wonderful moments and lots of laughter along with a few tears. Higly recommended, particularly for anyone who enjoys 19th century English literature.
Review by Kasthu
16/06/2015
Miss Marjoribanks is the story of Lucilla Marjoribanks, a young woman who endeavors to improve the social life of the town of Carlingford and "be a comfort to [her] dear papa." Lucilla admits freely that she has no sense of humor; but at the same time she has an infallible desire to organize things to her own satisfaction. Whether she's choosing draperies (to match her own complexion, of course), arranging her neighbors' marriages, or electioneering, Lucilla is an spirited woman who inevitably learns that she "had to undergo the mortification of finding out that many of her most able efforts turned to other people's profit and went directly against herself." This book is not only a story of Lucilla, but the middle-class town she lives in, filled with people who have social and professional ambitions.What I love about Margaret Oliphant's writing is that she really knows and understands her characters' thoughts and motivations. Lucilla could easily turn into a easily-disliked character, except for the fact that her flaws are what make her so lovable. This novel is intended to be a satire; how I laughed when in all seriousness Lucilla says, at age nineteenth, that she will have begun to "go off" at age 29! And Lucilla isn't the only character who is so well-defined; the other young ladies and gentlemen of Carlingford easily leap off the page. Margaret Oliphant's writing style is easily readable, even for modern readers. It's a long book, and there are some parts in the middle where the action starts to flag; but in all this is a wonderful novel, containing as it does wonderful characters and writing—as well as a little mystery involving mistaken identities.
Review by thatotter
16/06/2015
This was a very pleasant read, though it probably benefited from low expectations on my part. More similar to Austen's <i>Emma</i> than anything else. It has a much lighter tone than most Victorian novels, but it's more than just froth. Funny and satisfying.
Review by Jaylia3
16/06/2015
Resourceful, optimistic, determined, and unflappable, Miss Marjorie Marjoribanks would make a delightful, though perhaps slightly controlling, companion. While staying dutifully--albeit perhaps a bit technically--inside the closely circumscribed boundaries of what is correct and proper behavior for a young Victorian woman, Miss Marjoribanks is able to manage just about every aspect of life in her little town, including politics, even though she can't, of course, actually vote. After finishing school and taking a brief tour of the continent, Miss Marjoribanks comes back home to "be a comfort" to her dear papa, a modest and selfless goal she mentions frequently at the most strategic times. Her mother had died a few years back and while her father, the town doctor, finds his life quite complete, Miss Marjoribanks is determined to make it better. She also has a quite a few other things in mind to improve the social life of the town as well, including holding lively and soon beloved Thursday evening gatherings in her father's drawing room, which she had specially painted in a shade to flatter her complexion (she thinks of everything!). Miss Marjoribanks decides she'll continue on this course for 10 years, long enough to make up for papa having had the expense of redecorating the drawing room, before she thinks about getting married. But even Miss Marjoribanks can't anticipate everything that will happen. Some readers and reviewers have remarked that Marjorie Marjoribanks is like Jane Austen's Emma but less irritating, and I concur completely with that sentiment. It's a long book, and it did drag a little in the middle for me, but the story has a wonderful ending and it's filled with a variety of spirited, humorous, mostly lovable characters.My pleasure in this book was greatly enhanced by dialogue with reading partners--Miss Marjoribanks was an April buddy read with the Dead Writers Society on GoodReads and the Reading the Victorian Book Club on BookLikes.